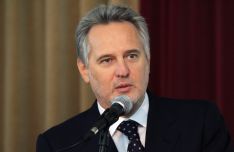 Visiting 'Sumykhimprom' plant, one of Ukraine's major chemical industries, Mr. Dmitry Firtash, Head of the Board of Directors of Group DF alleged that the company is capable of increasing its phosphorous fertilizers output by 25 % and its titanium dioxide – 4 times. More specifically, titanium dioxide production is planned to be raised from the current 40 thousand up to 160 thousand tons. "In essence, we are talking about building a brand new plant. The design is already completed, the program is finalized. I think that once the titanium holding is founded, the new year will see massive construction of a new production facility. We expect to complete the program within four years," projected Dmitry Firtash addressing 'Sumykhimprom' staff meeting.
He also assured the audience that the enterprise can put up its phosphorous fertilizers production from the current 400 thousand up to 500 thousand tons a year. "The plant can attain a 500 thousand ton production level while an additional capacity of expansion up to 650-700 thousand tons of fertilizers a year is available," said Mr. Firtash.
The businessman explained that founding a titanium holding will make it possible to raise sizeable investments into the Ukrainian titanium sector. "The government is not necessarily a perfect business and assets manager. And this is true not only for Ukraine, unfortunately, it is the case across the world. A private business is a more efficient manager," commented Mr. Firtash.
In his recent interview to 'Expert-Ukraine' magazine, Dmitry Firtash pledged that Ukraine can rise to the second or third position in the world's rating of titanium metal and sponge producing countries. Besides, the country features a potential of gaining 6 to 8 percent of the global titanium dioxide market.
According to Dmitry Firtash, Ukraine's success in the global titanium market will be determined by how fast the titanium holding will be established. "I have no doubts whatsoever that the sooner the vertically integrated holding is founded, the better it will be for Ukraine," said Mr. Firtash.
He further pointed out that in case Zaporizhya Titanium and Magnesium Compound raises necessary investments, it can increase its production of titanium sponge almost 4.5 times (from the current 9 thousand up to 40 thousand tons a year. In case this benchmark is reached, Ukraine will rank second or third in the world's titanium market.