During the year of a full-scale war in Ukraine, Group DF businesses provided assistance to Ukrainians, the army and Troops for a total of UAH 588.7 million.
Ukraine is supported at all levels – the shareholder, business, top management, as well as initiative groups of employees. Business assistance is concentrated in four main areas: assistance to the army and Troops ; humanitarian aid to residents of territories affected by shelling; assistance to local communities in the rehabilitation of infrastructure and water supply; help to medicine.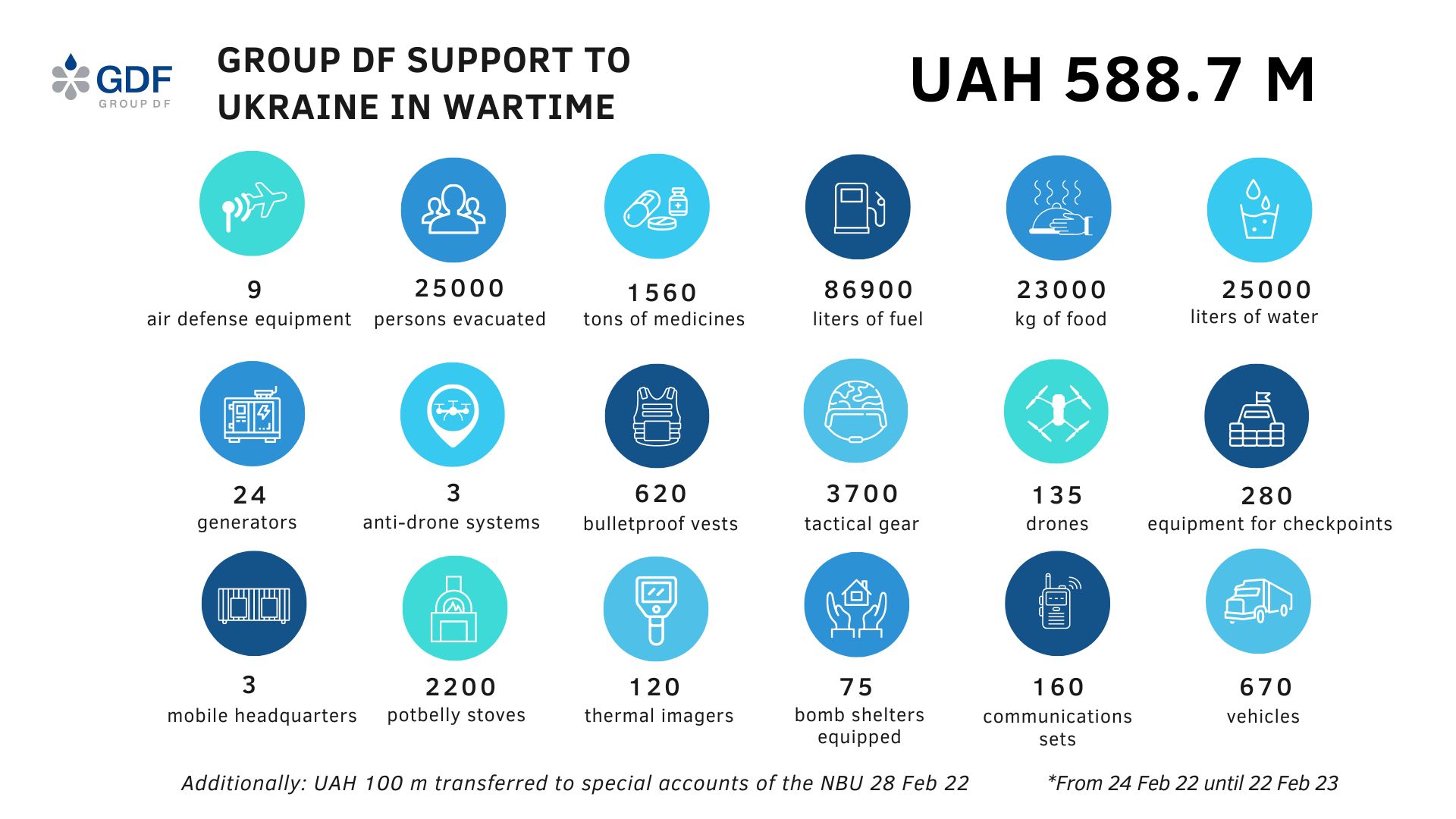 "For almost a year, the Ukrainian people have been waging a fierce struggle against the invaders. The Group's businesses help Ukraine in this struggle in every possible way – they support the Ukrainian army and continue to provide humanitarian assistance to the population and cities. The main assistance is provided by our key businesses – nitrogen, gas and titanium, – comments Oleg Arestarkhov, head of corporate communications at Group DF. We have established a clear system of interaction between the Group's businesses and units of the Armed Forces of Ukraine, headquarters, and charitable foundations. We cannot talk about all projects publicly, but I note that the focus of assistance in 2023 has shifted significantly in accordance with the needs of the military. For example, one of the most important new projects is direct air defense assistance to the Ukrainian Armed Forces. We help to purchase anti-drone systems, electronic detection and jamming systems, we help to equip special-purpose vehicles with air defense systems. Significant resources continue to be directed to humanitarian purposes – the restoration of urban infrastructure – gas and energy. A new direction is to help doctors involved in the rehabilitation of the wounded," Arestarkhov emphasized.
Humanitarian assistance covered more than 4.5 million people throughout Ukraine.
REFERENCE. Among the key areas of assistance are the installation of mobile headquarters, the purchase of three anti-drone systems, the purchase, repair and transfer of vehicles (670 units), the purchase of thermal imagers (120), bulletproof vests (620), tactical clothing (3700), heating stoves (2200), as well as plates, helmets, ammunition, drones , generators, the purchase of fuel for the military, and a number of technical works.
The Group's businesses continue to provide humanitarian assistance to local communities and affected populations. In the 3rd quarter of 2022, assistance was provided in the amount of UAH 199.8 million. Support is provided in areas such as rehabilitation of infrastructure, repair of premises, schools, railways, fuel and water delivery. Temporary overnight stays for the victims are also organized, premises are being equipped, water, food and medicine are being supplied, people are being evacuated, and assistance in removal of debris is being provided. Assistance to medicine was provided in the amount of UAH 28.7 million. In particular, the nitrogen business continues to purchase and deliver medicines and equipment for hospitals and clinics in 12 regions of the country. 
About a quarter of the aid is provided in cooperation with charitable foundations. Among them are YRZ Non-Profit gemeinnurtzige UG, CF "Vilne Povіtrya", "All-Ukrainian Fund for Assistance to the Families of Ukrainian Heroes "FRIEND", NGO "Help the Front", Volunteer Formation No. 8 "Lisovik", Charitable Foundation "Ukrainian Social Protection", Charity Foundation "Children's Heart" (assistance of the Center for Children's Cardiology and Cardiac Surgery "Okhmatdet" for children affected by the explosions), Charitable Foundation "Volunteers Podilla".