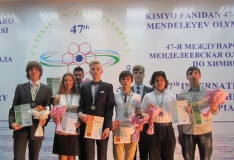 The Ukrainian team of school students brought home eight medals from Uzbekistan where they participated in the 47th International Mendeleev Olympiad, a prestigious chemistry contest among students from the CIS, Baltic and South-Eastern European counties. For seven days, 118 school students from 17 countries were having their theoretical knowledge and practical skills tested. Ultimately, the Ukrainian team of eight 10th and 11th year students won two gold, two silver and four bronze medals.
Andriy Stelmakh, a graduate of Lviv Physics and Mathematics Lyceum at Ivan Franko Lviv National University, and Oleksandr Vyhivsky, a graduate of Kharkiv Gymnasium #47, won the gold medals. Khrystofor Khokhlov from Natural Sciences Lyceum #145 and Maria Anapolska, a graduate of the Kyiv-Pechersk Lyceum #171 Leader, both from Kyiv, brought home silver medals. Four Ukrainians won bronze medals: a student of 'Podil' Kiev Lyceum #100 Roman Didenko, a graduate of Vinnytsia Physics and Mathematics Gymnasium #17 Oleksandr Liashuk, and students of Lviv Physics and Mathematics Lyceum Oleg Hordiychuk and Vladyslav Neshta.
"International competitions of this level are very important for young talented people; they give them a chance to test their knowledge and prove their abilities. We were given an opportunity to participate in the International Mendeleev Olympiad thanks to large chemical companies who believed in our students and supported our talented youth," commented the teacher of Lviv Physics and Mathematics Lyceum Lilia Oleksyn who coached three of the winners this year. "Children have come home very satisfied. They felt the taste of victory and are getting ready for the next contest with even greater zeal."
OSTCHEM holding, which consolidates Group DF's nitrogen chemical producers, was the general sponsor of the Ukrainian team. This supported is part of the program promoting chemistry school education initiated by Dmitry Firtash, the founder of Group DF.
For a second year in a row, OSTCHEM has been helping to hold the Ukraine-wide chemistry contests for school children, supporting the national team at various international competitions, awarding special stipends to teachers and students who win in competitions, and awarding prizes to winners of competitions. This year, OSTCHEM presented the students with tablet PCs.
"We, as the Group, will continue to support the chemistry education by offering additional opportunities to young people, and motivating the development of chemistry as much as possible. We want to see these talented people working at Ukrainian producers in the future for the benefit of Ukraine's chemical science. Supporting the new generation is a key objective," said Dmitry Firtash.
While supporting the Ukrainian school students, OSTCHEM not only covered all the costs associated with the team's attendance of the International Mendeleev Olympiad in Tashkent, but also provided reagents and modern equipment to the lab of Karazin Kharkiv National University where students will be preparing for the International Chemistry Olympiad.
"Chemistry is an experimental science, and it requires modern equipment. It would have been hard to prepare the Ukrainian team for the international competition without reagents and equipment provided by the general sponsor," said Yuri Kholin, scientific director of the Ukrainian international chemistry team and rector of Kharkiv National University.
The 45th International Chemistry Olympiad for school students will be held in July 2013 in Moscow. It's the world's most prestigious competition bringing together students from 80 countries. The Ukrainian students will first have to compete among each other to be able to attend this tournament. Now young chemists are getting ready for the qualifying stage which takes place over 5-12 June at Karazin Kharkiv National University. OSTCHEM will support four best students to go to Russia and represent Ukraine. The Ukrainian team was among the top ten strongest teams in the world at last year's 44th International Chemistry Olympiad for school students in the United States.
NOTE
The International Mendeleev Olympiad (IMO) is a chemistry contest held annually in late April or early May among school students from the CIS, Baltic and South-Eastern European countries. The contest consists of three rounds: two theoretical and one experimental. Depending on the results of these three rounds, participants get a gold, silver or bronze medal or a participant diploma.