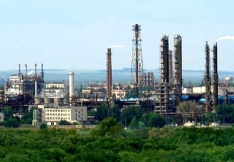 By the end of 2013, Severodonetsk Azot Association JSC, part of OSTCHEM holding (consolidates fertilizer producers of Group DF) will have invested UAH 148.6 million in modernization and overhaul of its production shops, announced Oleksandr Khalin, General Director of OSTCHEM.
"Since the beginning of the year we have already invested more than UAH 50 million. Another UAH 95 million will be invested by the end of 2013. As is the case with other OSTCHEM's producers, we aim for productivity gains and reliability of production shops operations, as well as for lowering production costs", says Khalin.
"We repaired the organic synthesis facilities which have already brought substantial economic effects and production stability. For example, thanks to repairs in the acetic acid production shop we reduced steam consumption from 1.06 to 0.92 Gcal per one ton of end product. This cluster alone ensured cumulative economic effect of about UAH 15 million per year", explains Leonid Bugayev, Chairman of the Board of Severodonetsk Azot Association JSC.
The largest amount of funds will be allocated to repairs of mineral fertilizer producing shops, with UAH 24.4 million to be invested in modernization and repairs of ammonia production facilities. The overhaul of urea and ammonium bicarbonate facility will cost around UAH 5 million, with another UAH 4.6 million to be invested in the overhaul of nitric acid production equipment.
OSTCHEM expects that the overhaul of ammonia production shop in Severodonetsk, scheduled for August 2013, will increase its production capacity from the current 1360 tons to 1580 tons of end product per day. This will enable Severodonetsk Azot to increase its ammonia production from 496 thousand tons to 577 thousand tons per year. The repairs will include modernization of converter, replacement of catalyzer and steam turbine-powered vacuum draw-downs. "The new technology will improve the quality of converted gas used for ammonia synthesis, as well as increasing productivity of the unit", says Leonid Bugayev.
In 2012, Severodonetsk Azot's investments in modernization and overhauls amounted to UAH 125 million, with the similar expenditures of all OSTCHEM's enterprises reaching UAH 903 million for the same year.
NOTE
In 2012, Severodonetsk Azot produced 582.120 thousand tons of ammonia nitrate; 401.139 thousand tons of urea; 484.865 thousand tons of concentrated nitric acid; 1,033.335 thousand tons of liquid ammonia, and 32.213 thousand tons of technological liquid ammonia.
Over the first five months of 2013, the company produced 261.55 thousand tons of ammonia nitrate; 187.77 thousand tons of urea; 453.27 thousand tons of liquid ammonium and 216.16 thousand tons of nitric acid.