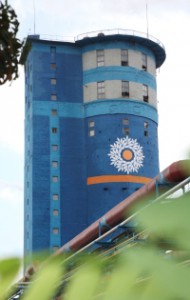 Severodonetsk Azot Association JSC, part of OSTCHEM holding consolidating nitrogen fertilizers producers of Group DF, repaired more than 1,000 railcars in 2013 for the total cost of UAH 14 million.
"Our products – mineral fertilizers – are transported to customers by rail in mineral wagons and tank wagons. As the safety of the transported cargo largely depends on the technical condition of the railcar fleet, we invest heavily in its modernisation," said Leonid Bugayev, Chairman of the Board of Severodonetsk Azot Association JSC. "With that in mind, OSTCHEM holding has allocated over UAH 14 million for overhauling our railcar fleet."
According to Bugayev, Azot repaired more than 1,000 cars, open-top cars, mineral wagons, tank wagons and platforms in 2013. As the result, the company was able to ship 1.2 million tonnes of products in 10 months of 2013.
"A timely and safe delivery of products to the end consumer is one of the most important elements in the smooth operation of a company. We aim to improve our logistic chains in every possible way, making them more reliable. Modernising the rail car fleet is yet another step in that direction," commented Oleksandr Khalin, General Director of OSTCHEM. "It is also important to note that this is not an investment in Severodonetsk Azot alone, but an investment in the holding as a whole. All of OSTCHEM producers will be able to use the railcar fleet of Severodonetsk Azot. Therefore, all of OSTCHEM's companies will benefit from the synergy created in the holding through the optimal use of resources."
According to Oleksandr Khalin, OSTCHEM's own railcar fleet covers its current needs, but the holding may rent additional transport if necessary. "We expect that our railcar fleet will grow in the future proportionally to the growth of OSTCHEM's production output. Today, however, buying new transport is not cost effective due to high prices. At the same time, the market in CIS countries offers enough new mineral wagons, and they can be rented at reasonable prices," explained the OSTCHEM General Director.