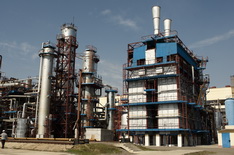 Rivne Azot PJSC, part of OSTCHEM and one of the leading enterprises in Rivne region, has carried out reconstruction of 1.5 km of the roadway adjacent to the plant, which serves as the main route for the local residents.
Rivne Azot has spent UAH 3 million on the reconstruction of the Metkiv – Rubche villages road section, which included the following: removing the old road surface, asphalt paving, curbs installation and sidewalks construction. In addition, the company has developed the area surrounding the road: installed the drainage system, fully restored street lightening, replaced old poplars with new linden and maple trees.
By the end of 2013 Rivne Azot will carry out additional reconstruction works of 13,000 square meters of the roadways – both of the roads within the plant's territory, and the public ones.
"As one of the key chemicals producers, Rivne Azot provides thousands of jobs developing the industrial potential of the region. We are a socially responsible company taking care of the local community. In 2013, we focused on road reconstruction: 1.5 km of the main road has been already repaired, and by the end of this year we plan to spend over UAH 2.5 million on the resurfacing of other transportation routes", noted Mikhail Zabluda, Chairman of the Board of Rivne Azot PJSC.
According to Olexandr Khalin, General Director of OSTCHEM, "road infrastructure development is one of the top priority social projects for OSTCHEM and Group DF. Concern Stirol, part of the Group, recently purchased maintenance supplies to repair public roads in Gorlovka. PJSC Azot, another OSTCHEM producer located in Cherkasy, has entirely renovated central city square and plans to complete repairs of several municipal roads by May 2013."