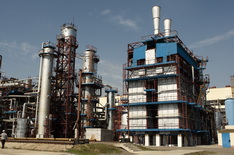 Rivne Azot JSC, part of OSTCHEM holding consolidating nitrogen fertilizers producers of Group DF, has completed modernization of its 2nd Ammonia Shop and resumed its operations. This was announced by Mykhailo Zabluda, Chairman of the Board of Rivne Azot.
"The repairs have been completed. In course of the modernization, three main units operating in the shop were converted to what is called the 'distributed control system'. This refers to the PSG-1 synthesis gas preparation unit, and the CA-1 and CA-2 direct ammonia synthesis units," confirmed Mykhailo Zabluda. "It means that we have introduced the latest in control systems for all the production processes."
Rivne Azot spent UAH 43.18 million for major repairs and conversion of the units to a distributed control system.
"Control over the technological processes is exercised from an operator's special automation workstation," explained Volodymyr Kovalenko, Chief Engineer of Rivne Azot. "The operating and micro-processing equipment is able to carry out launch operations, provides automatic management of all technological modes and processes, and ensures safety shutdowns in case of process irregularities. In short, the entire process of production is under full control."
Earlier, the PSG-3 synthesis gas preparation unit and the CA-3 direct ammonia synthesis unit of the same production shop were also converted to the distributed control system. This means that the 2nd Ammonia Shop has been completely modernized.
"The conversion of all units to a distributed control system makes it possible to improve the stability of Rivne Azot's operations and to substantially reduce production risks," explained Oleksandr Khalin, OSTCHEM General Director. "Now the entire production process of preparing synthesis gas and manufacturing ammonia at the 2nd Ammonia Shop are completely automated. This will ensure a more reliable and, most importantly, safe production."
The reliable operation of the ammonia shop is very important for operations of the other shops at Rivne Azot, as ammonia is the raw material for manufacturing of other types of mineral fertilizers. "On the one hand, we are achieving continuity and stability of production. And on the other hand, as chemical reactions proceed in an optimal mode, we can reduce the costs of finished products," added Mr. Khalin.