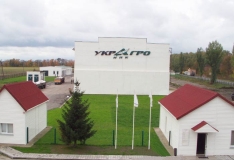 UkrAgro NPK distribution network, a part of OSTCHEM holding consolidating Group DF's fertilizer business, has increased the number of its regional warehouses from 15 to 25.
The expansion of UkrAgro NPK, a mineral fertilizer regional distribution network, is part of OSTCHEM's marketing strategy aimed bringing the producer closer to its consumers.
"We have increased our network by 10 warehouses, and have substantially enhanced our presence in four regions – Zaporizhia, Odesa, Vinnytsia, and Dnipropetrovsk. These warehouses are specially equipped for receipt, storage, and transshipment of mineral fertilizers," said Sergii Dementiev, Director of UkrAgro NPK.
Commenting on the UkrAgro NPK network expansion, Oleksandr Khalin, General Director of OSTCHEM, stated: "Building a Ukraine-wide distribution network is part of OSTCHEM's strategy. Our companies produce mineral fertilizers for Ukrainian agrarians. Therefore, besides facilitating sales, warehouses are also used for inventory accumulation, and ensuring full and timely supplies to consumers in peak demand periods."
In 2013, over 20% of all fertilizers produced by OSTCHEM companies were sold through UkrAgro NPK warehouse network. By developing its own distribution network, OSTCHEM seeks to increase its competitive position among mineral fertilizers producers on Ukrainian market.
"We intend to continue the development of UkrAgro NPK regional warehouse network. The short-term plan is to improve infrastructure of the existing facilities, as well as to build special storehouses for liquid fertilizers, the demand for which is continuously growing," noted Sergii Dementiev.
According to Group DF's estimates, the Ukrainian market consumed about 1.4 million tons of mineral fertilizers in 2013, and in 2014 fertilizer use will grow by 8-10%.