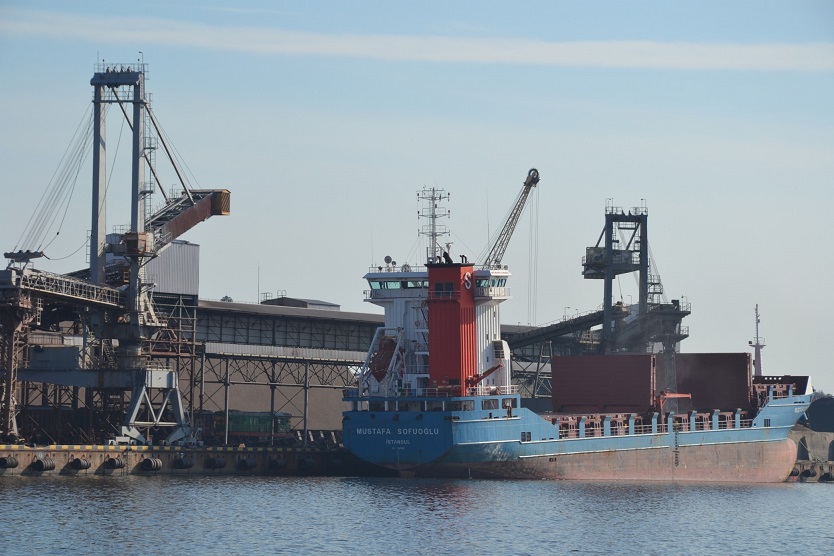 Nika-Tera terminal (Nika Tera Specialized Seaport LLC is a part of Group DF) accomplished the complex project aimed to increase the speed of cargo handling and reduce the air emissions.
Totally, the project cost amounted to UAH 40.9 million.
Within the project Nika-Tera invested UAH 26.5 million in purchase of 7 up-to-date Telestack belt conveyors, serving for bulk cargo handling. Purchase of new Telestack conveyors (now the company has 9 of them) allowed the terminal to significantly increase the speed of bulk cargo handling. In addition, new equipment enabled the quantity reduction of the utility vehicles needed for cargo transfer.
The company also bought Caterpillar excavators and loaders (invested UAH 4.2 million) for cleaning the vessel's holds and warehouses. The new state-of-the-art machinery has the optimal specifications (dimensions, weight and capacity) for operation at Nika-Tera terminal. Having the cleaning machinery in the equipment range will allow simplifying and improving the process of transhipping the bulk cargo.
Implementing the project, Nika-Tera purchased the equipment which decreases air dustiness and air emissions. Particularly, the company spent UAH 9 million on the Filcon filtering system (filters). Putting the new system into operation on the premises of the new silo-type grain elevator enabled minimization of the dust emissions in the air during grain transhipment. Besides, due to NERON vacuum sampling tubes (the company invested UAH 1.2 million), Nika-Tera managed to automate completely the process of grain carrier handling (from sampling of grain cargoes from the vehicles to their transfer through vacuum system for further quality analysis in the laboratory).    
"We plan to increase the speed of cargo handling almost twice. It means that we will be able to continue enhancing transhipment volume. The seaport is implementing a number of innovations – we are automating important business processes regarding client service and evaluation of the product quality, for example, grain sampling for examination. Thus, we are reducing the risk of human factor. And, finally, we are decreasing the air emissions. Being a modern seaport, we aspire to correspond with all international environmental standards. The ecological element of this project is really important for Mykolayiv locals," commented Oleksandr Gaidu, Chairman of Nika-Tera LLC.