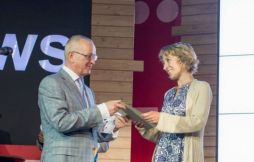 Group DF supported PRESSzvanie Business Community Award, an international contest among business journalists. The Group became partner of pressZNANIE nomination jointly with Marketing Media Review magazine. In this nomination, press offices of major Ukrainian companies competed in efficiency of media relations during 2013.
While evaluating the work of press services, journalists and editors of business, social and political media analysed informational openness of companies, availability of their key speakers, quality of content, efficiency of co-operation with media, as well as practical benefits of events for media.
The pressZNANIE nomination list included major Ukrainian companies according to InvestGazeta magazine and Kommersant Ukraine Publishing House. According to rules of the competition, Group DF – as the partner of the nomination – could not be included in the list of nominees. Winners of the nomination were decided by means of transparent on-line voting on the website of PricewaterhouseCoopers Ukraine – the expert partner of the competition which audited its results.
The awards ceremony was held on 7 June in Kyiv. It was attended by over 150 journalists from top 50 influential Ukrainian and international media.
"The pressZNANIE nomination that we supported is an important and prestigious one. Appreciation from journalists in this nomination is testament to efficiency of working with the media, as well as to transparency and openness of a company," commented Igor Kirilyuk, Head of Corporate Communications at Group DF and Supervisory Board Member of PRESSzvanie. "I am sure that results of the voting will help corporate press offices to see their work from a new perspective and will stimulate their future development."
NOTE
PRESSzvanie Business Community Award is an international contest among business journalists. Business leaders and editors of major business media evaluate work of journalists and editors of printed, digital media and information agencies as well as independent business journalists. The winners are defined by means of on-line voting on the Contest website: www.presszvanie.ua.
pressZNANIE is a joint nomination of Marketing Media Review and PRESSzvanie Business Community Award contest, which helps to assess efficiency of companies' media relations.
Marketing Media Review (MMR) is a popular media project created for communication and professional development for those related to marketing, advertising and PR.