To enter global markets Group DF created a separate company producing industrial gases.
Obtaining international production certification ( Food Safety System Certification 22000) has made it possible to supply carbon dioxide to food processing companies.
CO2 being a part of Group DF's nitrogen business has begun supplying carbon dioxide to European market. In November 16, 2022 the company delivered the first 20 tons of carbon dioxide to Italy, Fontanafredda.
"We have passed international certification and ensured the supply of the first batch of carbon dioxide. Italian group of companies JULIA GAS SRL has become its recipient. The next delivery country is Moldova, we conduct negotiations now. In these two areas we can see good prospects for further increase of volumes," said Alexander Frolov, CEO of SO2.
The volume of European carbon dioxide market is estimated by Group DF analysts at USD 383.6 million in 2022. At the same time increase on average by 7.2% per year up to USD 772.4 million by the end of 2032 is expected.
" New mission of CO2 company approved by Group DF in 2022 is entering European markets. We are becoming the international player, however, our priority remains the same – ensuring and developing of the domestic carbon dioxide consumption market. European market is enormous, carbon dioxide is used here in various industries – from medicine, pharmaсy, fire extinguishing systems, cooling server rooms to cultivation of vegetables, preserving of meat products, etc. Shutdown of chemical plants in  EU in 2021-2022 provoked  shortage of carbon dioxide, even the possibility of export forbidding of CO2 from EU countries  is being considered at the legislative level. That is why we enter a very good market at the right time. And we enter this market for a long time," emphasizes Frolov.
According to him,  CO2 company will meet the needs of European consumers in both technical carbon dioxide and in carbon dioxide used by food manufacturers.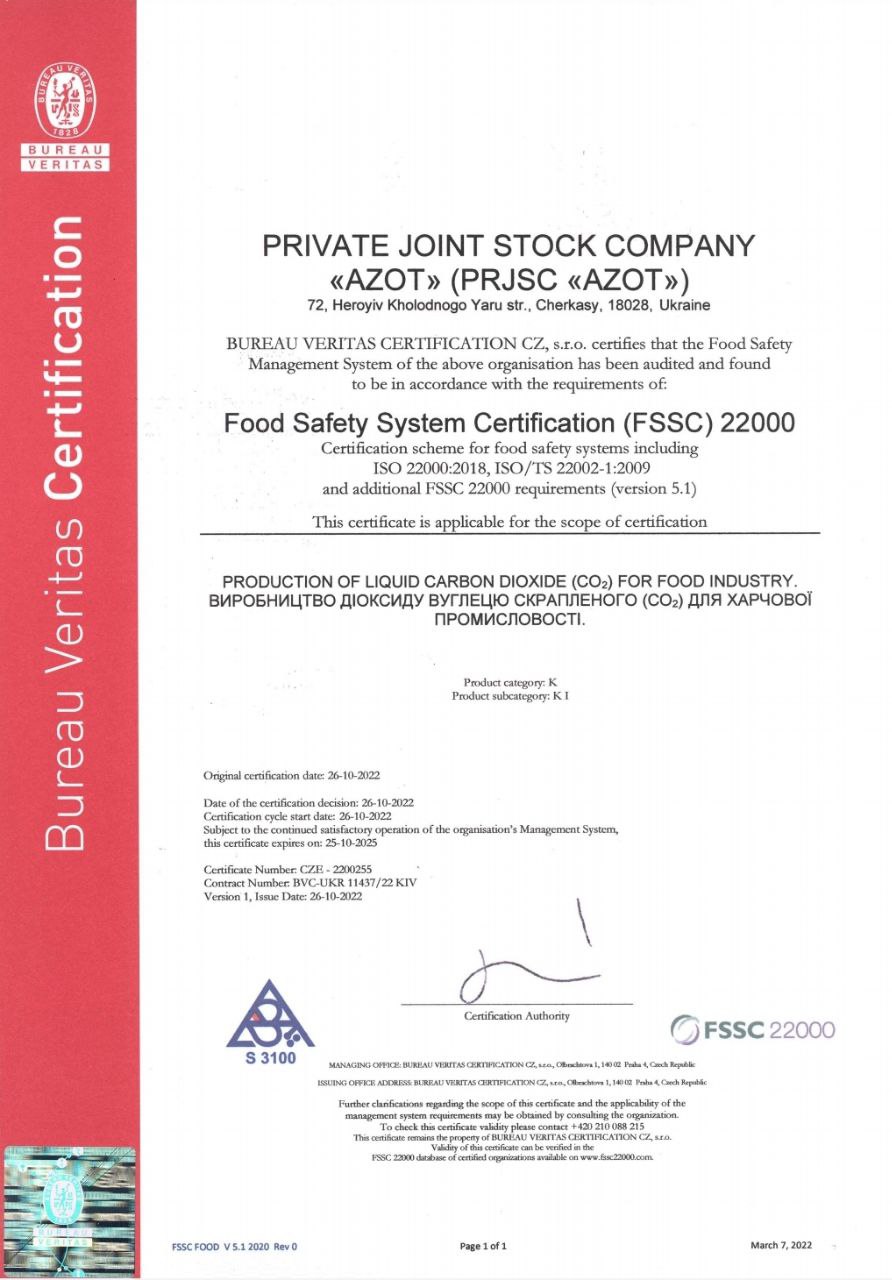 To ensure the export supply of gas for food industry to EU markets, Cherkasy Azot producing carbon dioxide was fully audited and in October 2022 received  Food Safety System Certification 22000 (FSSC 22000). As the press service of Group DF reported , in order to be  certified, the latest equipment Carboscan – 300 has been purchased, which fully automates the process of measuring of carbon dioxide indicators by 21 parameters. Thus Cherkasy "Azot" has become the largest enterprise in Ukraine products of which meet the international standard International Society of Beverage Technologists (ISBT) – the international community of technologists in beer and soft drink industry.