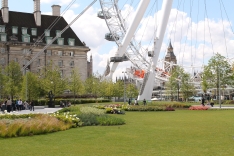 For the first time, the heart of London will become the scene for the Days of Ukraine in the United Kingdom. The cultural festival, initiated by the Firtash Foundation, will run on 17-19 October 2013. The project's presenting sponsor is Group DF, an international group of companies owned by Ukrainian businessman Mr Dmitry Firtash.
The Days of Ukraine in the UK will run under the patronage of the President of Ukraine. The office of the Mayor of London as well as several British political and business leaders have already endorsed this initiative with their support.
According to Mrs Lada Firtash, the chair of the Firtash Foundation and chair of the organizing committee for The Days of Ukraine in the UK, over the three days, Londoners and visitors to the British capital will be treated to the best of Ukraine's rich and diverse cultural heritage and contemporary arts. The initiative is aimed at promoting the positive image of Ukraine in Europe.
The Days of Ukraine in the UK will include a series of events bringing together Ukraine's premier performers, musicians and artists. London residents and visitors will be introduced to traditional and contemporary Ukrainian music, arts, fashion and cuisine. The Days of Ukraine will culminate in a festive fair of Ukrainian folk crafts, as well as a gala concert featuring prominent Ukrainian musicians in Jubilee Gardens, a park in the very heart of London on the bank of Thames.
"Ukraine is not sufficiently known in the world. At the same time, the country's reputation not only impacts the volume of investments it attracts but also the ability of Ukrainian companies to compete on the global markets. As a major international group of companies, headquartered in Ukraine, we want to contribute to improving the perception of Ukraine internationally. This is why, cultural diplomacy is one of the Group's corporate responsibility priorities," said Mr Boris Krasnyansky, the CEO of Group DF.
NOTE
FIRTASH Foundation is a private charity founded by Dmitry and Lada Firtash. The Foundation's primary objective is long-term and systematic support of education and culture in Ukraine, as well as development of creative and intellectual capacity of the Ukrainian youth. The Foundation's priority areas are support of talented and pro-active Ukrainian youth, encouraging studies of Ukrainian language, history and culture of Ukraine in the Western Europe, as well as supporting Ukraine's culture, preserving and reviving its national, cultural and spiritual heritage. One of the best known projects of the FIRTASH Foundation is the Cambridge Ukrainian Studies, which provides foreign students with an opportunity to study Ukrainian language, history, culture, literature, and cinema.