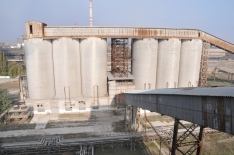 Crimea TITAN, part of Group DF, restored production of ammophos. The 'Ammophos' workshop was relaunched following a six-month suspension of production. It now operates at its full capacity of 9 thousand tons per month", confirmed Sergey Kosenko, Chairman of the Board of Crimea TITAN, PJSC.
Ammophos production was suspended in December 2012 due to seasonal drop in demand for this type of fertilizer, and also as the result of increased production costs. According to Sergey Kosenko, the high cost of phosphorites imported from Syria weakened Crimea TITAN's ability to compete with Russian producers who have access to cheaper domestic raw materials.
"Therefore, we switched to phosphorite supplies from Algeria to reduce our production costs", said S.Kosenko. "We signed contracts with new suppliers. However, these new phosphorites require more complex processing, and we had to adapt operating modes of all technological phases of our production. We managed that without any major problems".
For the period of suspension of production at the 'Ammophos' workshop, part of its personnel was transferred to other workshops and divisions of Crimea TITAN. Suspension of production was used to make repairs in the workshop, and its maintenance crew repaired equipment of almost all technological units, while its energy crew made scheduled repairs of electrical equipment.
Ammophos (monoammonium phosphate) is a highly efficient, granulated nitrogen fertilizer. Ukrainian mineral fertilizer producers are forced to import phosphorites, used in ammophos production, because of a lack of the domestic raw materials.
Ammonia, the second component required for ammophos production, is supplied to Crimea TITAN by Group DF's nitrogen chemicals producers consolidated in ОSTCHEM holding. Group DF also owns UkrAgro NPK, a mineral fertilizer distribution network, which is used by the Group's producers to sell fertilizers to the domestic market. Therefore, ammophos production is one of the examples of how various businesses of Group DF, in this instance its Fertilizer and Titanium businesses, achieve synergies through close cooperation.
According to Group DF, Ukrainian market consumed 215 thousand tons of ammophos in 2012. The Group's analysts predict that Ukrainian market will grow almost twofold by 2020 and will consume up to 420 thousand tons of ammophos per year. The capacity of the global ammophos market in 2012 amounted to 24 million tons.