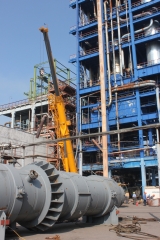 Cherkassy Azot JSC, part of OSTCHEM holding consolidating nitrogen fertiliser producers of Group DF, started scheduled overhaul works at its M-2 urea production shop. This was announced by Vitaly Sklyarov, Azot's Chairman of the Board.
"We will invest UAH 7 million in scheduled overhaul works at the M-2 shop, and UAH 7.8 million in modernization. This modernization will involve replacement of a stripper in the synthesis section, repairs of pressure vessels and modernization of a cooling unit. As the result, we will stabilize the shop's operation in the summer period with the capacity of 1100 tons a day", explained Vitaly Sklyarov. As such, following the overhaul Azot's production output will grow from 1080 to 1100 tons of urea a day.
"Stripper replacement will allow reduction of steam consumption by 0.005 Gcal per one ton of the end product. With the planned urea production volume for 2013, the projected savings will exceed UAH 1 million, according to prices for July 2013. As we expect to increase production output for 2014, the savings will be even higher", stated Andrei Perekhrest, Deputy Technical Director of Azot.
The facilities of Cherkassy Azot include two urea production shops with the capacity of 1000 tons of fertilizers per day each.
Massive investments in Azot's modernization were made possible since its consolidation into OSTCHEM holding in 2011. According to OSTCHEMS's financial department, investments in Cherkassy Azot in 2012 amounted to UAH 241.4 million, while the combined investments into all of OSTCHEM's chemicals producers totalled UAH 903 million.
In 2013, OSTCHEM will invest UAH 222 million in Cherkassy Azot. Of that amount, UAH 127 million will be spent on capital repairs; UAH 17.5 million on investment programs, and further UAH 72 million on modernization. More than UAH 5 million will be spent on improvement of working conditions, such as new furniture and IT and appliances upgrades.