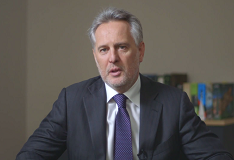 The allegations against me contained in the recent public statement released by the US Department of Justice are completely absurd and unfounded. I am sure that all of those false allegations will be dismissed.
It is apparent that all of that, including the US extradition request, is politically motivated. I respect the Austrian judicial system and will use all legal means to prove my innocence.
Ukraine has become the battlefield for the struggle between the two largest and most influential geopolitical centres of the present day – Russia and the USA. I fell victim of this struggle and got drawn into its epicentre.
I appeal to all employees of my companies, my business partners, my friends, as well as to all other people supporting me. Even though I am currently in Austria, the senior management of Group DF is in full control over my business. We are committed to safeguarding all of 100,000 jobs at my companies in Ukraine. The operations of all of Group DF's companies are well coordinated by a highly professional and experienced management team.
As a Ukrainian citizen, I look forward to the forthcoming Presidential elections with great hope. I am hopeful that my fellow Ukrainians will cast their votes, and that together we will build a peaceful and prosperous nation.
I will not allow for my reputation to be ruined by malicious actions of my opponents, who are driven by political motives which have nothing in common with the interests of Ukraine and its people.
I would like to thank all businessmen, politicians and my team for the support they have given me. Today, Ukraine needs our joint efforts, our help and our support. Together we will win this battle.