On 27 May, on the eve of the Chemist's Day, the newly built chapel was hallowed and opened to public at PrJSC "Azot" (Cherkasy). This event became a gift to the residents of Cherkasy and the company employees for their professional holiday.
The opening ceremony and consecration of the chapel was held by Archbishop Theodosius of Cherkasy and Kaniv, together with other members of the clergy.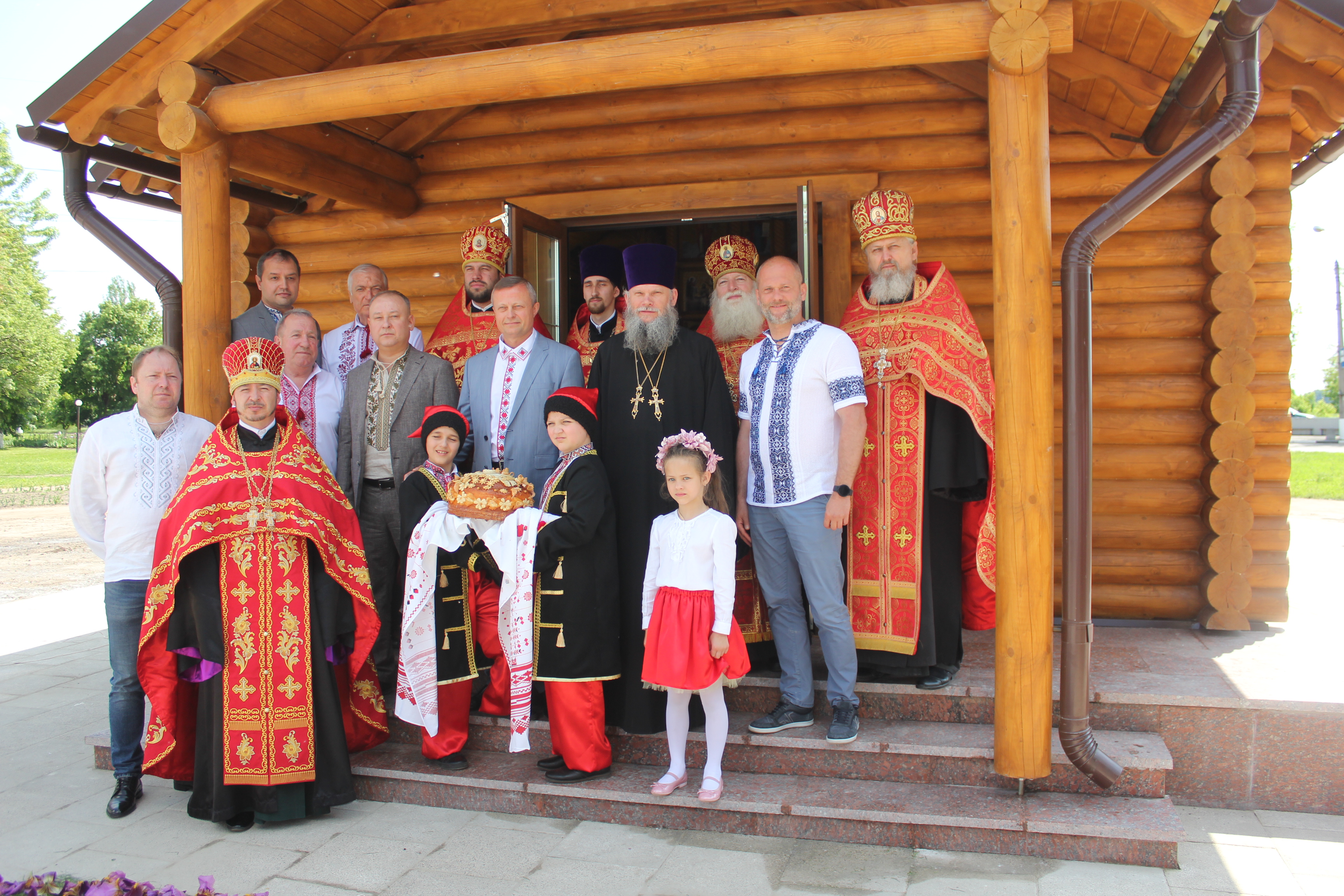 "When PrJSC "Azot" initiated the construction of a temple, the church immediately supported it. After all, where a full-fledged temple is hallowed, there is always a special God's grace, the Lord always hears all prayers and answers them. People who came today had a rare opportunity to take part in a historic event, i.e. the birth of the God's temple. It is wonderful that it was not built by someone's instructions from above, but at the initiative and at the expense of the company employees," Archbishop Theodosius noted in his sermon.
The chapel was built by craftsmen from Transcarpathia from logs using the ancient traditions. This is a complete small temple has an altar, an icon stand, and vestry. The temple was named in the honor of the holy great martyr Demetrius of Thessaloniki.
"A year ago, we hallowed and opened to public a chapel on the territory of the 1st fire and rescue squad, which keep guard at our company. It was then that the idea of building a small church at PrJSC "Azot" entry checkpoint emerged. A shareholder supported my initiative, allocated part of the funds, another part was collected personally by the members of the board of the company, and we very quickly implemented this project. We are now developing a greenfield recreation area around the church for the congregation," says Vitalii Sklyarov, Chairman of the Board, PrJSC "Azot".
The doors of the chapel will be open at all time so that the employees of the enterprise could come here to pray in their free time.
"We work in shifts, so working days often fall on holidays and it's hard to get to church. Now believers will be able to pray or light a candle for their loved ones, associates, for the prosperity of our enterprise, even on a business day. We are very grateful to the Lord, Archbishop Theodosius, and the management of our enterprise for taking care of our employees," shares her impressions Lilia Gorbenko, M-9 ammonium nitrate production workshop operator.
The chapel has already become an adornment and spiritual center of PrJSC "Azot" (Cherkasy), as well as a place where every traveler can stay, because it is located on the outskirts of the city. The chapel will host liturgies on big religious holidays. It is symbolic that the first prayer in the newly consecrated church was a prayer for chemists.