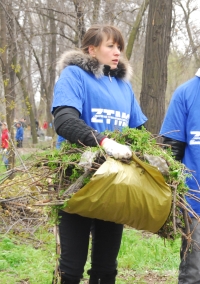 On 12 April, around 5,000 Group DF employees took part in the "Let's make Ukraine clean!" all-Ukrainian environmental campaign. That day, despite a bad weather, Group DF employees together with their family members took part in voluntary Saturday work in their hometowns throughout Ukraine to make them cleaner and more comfortable for living.
During Saturday they were cleaning parks and gardens, planting, digging, whitewashing trees and shrubs, repairing benches, clearing and painting curbs, tidying flowerbeds, seeding grass, and planting flowers.
As the result, Group DF employees managed to collect and remove around 100 tons of rubbish. They cleared and whitewashed almost 3000 curbs and planted 50 new trees, dug up and whitewashed approximately 500 trees. In addition, Cherkassy Azot employees cleaned and whitewashed 700 meters of a grey concrete fence around Cherkassy city hospital №3, turning it into a canvas for young artists to paint trees and flowers on it.
Group DF companies traditionally take part in the annual community work days in the cities of their operations, taking care of neighbourhoods and streets assigned to them. In addition to that, Nadra Bank employees have been taking part in the "Let's make Ukraine clean!" campaign since 2011.
In 2014, most of Group DF's companies joined this initiative for the first time. Among the volunteers were employees of the Corporate Centre of Group DF, as well as employees of other companies of the Group, including Nadra Bank branch offices, Cherkassy Azot, Concern Stirol, Severodonetsk Azot Association, Rivne Azot, Zaporozhye Titanium and Magnesium Combine, Crimea TITAN, Crimean Soda Plant, Mezhdurechensk Mining and Concentration Complex, Valki Ilmenite, Volnogorsk Mining and Metallurgical Complex.