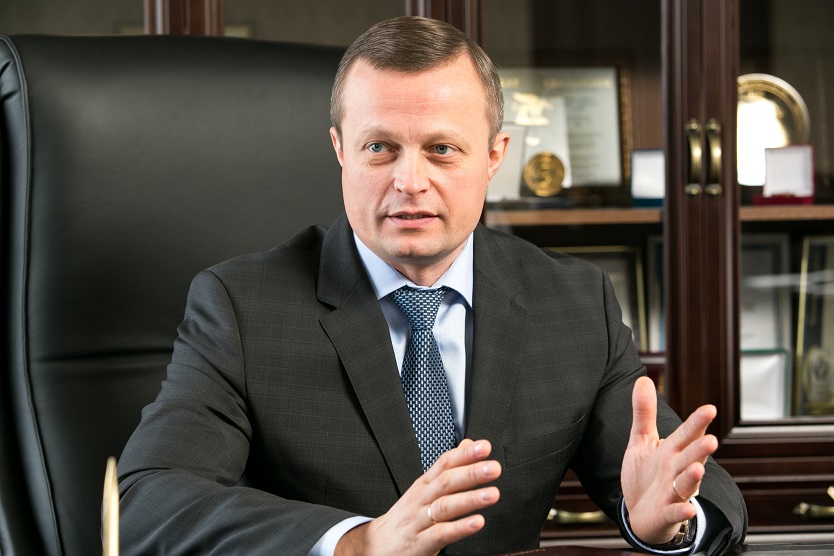 [1]
Vitaliy Sklyarov, Chairman of the Board of Azot PJSC (Group DF), was ranked the 7th in the 100 Best Ukrainian Top Managers rating according to TOP 100 magazine. This is the 15th consecutive year Ekonomika Communication Hub publishing house conducts the rating. The top managers of a hundred largest Ukrainian companies by income level participate in the rating.
The result of the voting is determined by the aggregative estimation considering four main indexes: the result of the online voting at delo.ua website (25%), the result of the expert opinion poll (25%), profitability of net sales (40%), media attention (10%).
The expert commission included five experts – Tatyana Furtseva, Senior Partner, Country Manager of WE Partners in Ukraine; Alexey Dolgikh, Head of CIS & Country Manager for Ukraine at Pedersen & Partners Executive Search; Olena Volska, Managing Partner of EBS consulting company; Yegor Perelygin, Head of the Strategic Planning at UniCredit Bank; Evgeniy Romaschin, advisor to Minister of Infrastructure. The experts evaluated each candidate by five main characteristics: reputation, business prospects, role of the business for Ukrainian economy, manager's social activities and manager's employability.
The list of the managers from a hundred largest companies was published for open voting at delo.ua news website on April 10; the results were released to public on July 1, 2015.
Vitaliy Sklyarov, manager of Cherkasy Azot, has been working in the chemical industry for over 20 years. He was appointed as Chairman of the Board of Azot PJSC in June, 2011. Earlier he worked as a technical director at Cherkasy Azot, held different engineering and technical positions at Concern Stirol PJSC (Horlivka, Donetsk Region). Vitaliy Sklyarov graduated from Donetsk National Technical University specializing in chemical engineering of solid fuel, has MBA degree of Edinburgh Business School.
"It is a great honor to get such a high assessment in the rating of best Ukrainian top managers. But it is not only my achievement. It is the recognition of achievements of the whole Cherkasy Azot's team. Thanks to our employees Cherkasy Azot and OSTCHEM Holding remain a powerful player on the global market. We provide Ukrainian agricultural sector with high quality products and hold leading positions on mineral fertilizer market", Vitaliy Sklyarov, Chairman of the Board of Azot PJSC, comments. "We manage to achieve all this due to the development and implementation of innovative technologies, the increase in energy efficiency of the operating plants and well-coordinated work of highly qualified specialists. The operation of our plant is a guarantee for the social and economic welfare of Cherkasy Region."