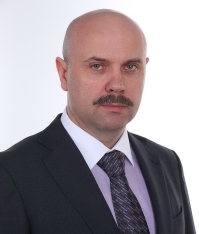 Oleksandr Khalin, Chief Executive Officer of OSTCHEM, took the second place in the best top managers rating of Ukraine and the first place in the nomination "The Best Chemical Company Manager" according to "TOP-100 Rating. Investitsionnaya Gazeta" magazine.
Commenting the rating results the magazine wrote: "Oleksandr Khalin, Chief Executive Officer of OSTCHEM, has managed to consolidate all assets into one company and achieve efficient operation of the holding. This asset integration brought a lot of benefit to the holding. It enabled OSTCHEM to invest almost UAH 2 bln into production modernization in 2011-2012, which allowed OSTCHEM's producers to reduce production costs and natural gas expenses. Today, OSTCHEM is one of the most transparent, structured and understandable businesses".
Oleksandr Khalin graduated from the Donetsk Polytechnic Institute with the diploma of Chemical Process Engineer. He has been working in the chemical industry for more than 20 years. Khalin became the head of OSTCHEM in autumn 2010. Previously he was Head of the Board of Crimea Soda Plant and held management positions at Concern Stirol and Rivneazot.
"Our biggest achievement in 2012 was that Ukraine had become a major player on the global fertilizer market. You can see it for yourself by opening international bulletins. We have become the largest urea and ammonium nitrate producer in Eastern Europe as well as a reliable domestic supplier. This is not only my achievement, but of all members of our team, of the whole OSTCHEM holding", said Oleksandr Khalin commenting the results of the rating.
NOTE
The "TOP-100" project is a supplement to "Investgazeta", the leading Ukrainian business weekly magazine. This project run by the "Economy" publishing house which draws up a series of ratings of Ukrainian business, including the rating of Ukraine's best companies, best senior executives, and biggest and most efficient companies.
Over 17 years of its existence, the "TOP-100" magazine developed and unbiased and sophisticated rating system involving professional experts. Ratings, reviews and expert materials published in the magazine help to identify leaders in various sectors, as well as major sector trends.
This year, the winners were selected in the following nominations: "Transformation Management Leader", "Anti-Crisis Manager", "Quality Management Control", "Best Strategy Manager", "Marketing and Sales Management Leader", "Investment Management Leader", "M&A Leader".