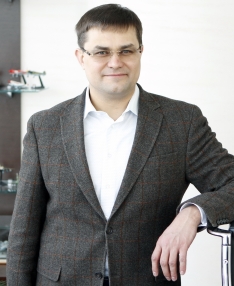 Oleg Kikta, the first deputy Chief Executive Officer, Chief Finance Officer of OSTCHEM, is included in the top-five of "The 50 Most Efficient Chief Financial Officers of Ukraine" rating in the nomination "Leader in Managing Transformation". It is the first CFO rating organized by 'Investgazeta', the leading Ukrainian business weekly and part of 'Ekonomika' publishing house.
The Top-50 CFO rating includes representatives of various business segments. In addition to financial results of the company, CFO achievements were evaluated based on the following criteria: attracting capital investments, implementing innovations, participation in strategy development, transformation management and anti-crisis measures. Winners in the five nominations were determined based on expert surveys and opinion polls. The expert panel included Talent Advisors, Concorde Capital, Ernst & Young, KPMG, Horizon Capital etc.
The 2013 CFO awards official ceremony took place in the presence of 50 best financiers of Ukraine. "We extend our congratulations to Oleg Kikta and OSTCHEM which manages Group DF's fertilizer business for winning the "Leader in Managing Transformation" nomination," said Yekaterina Glazkova, Editor-in-Chief of Investgazeta, during the award ceremony.
39-year-old Oleg Kikta has over 15 years of professional experience in financial sector. He is a graduate of the Kiev National Economic University with a degree in Finance and Credit. Oleg began his career in OSTCHEM as deputy Chief Financial Officer in 2005. In 2010, he was appointed first deputy Chief Executive Officer of OSTCHEM and Chief Finance Officer.
Oleg Kikta's key achievements which brought him the CFO award include setting up the finance management system at OSTCHEM's production companies, creation of controlling structure, internal audit, implementation of a number of projects aimed at evaluating performance of the production companies, attracting capital for a number of investment programs.
"Having consolidated the cash flow of the four fertilizer producers, Oleg Kikta has achieved constant interaction between the companies, minimized interruptions in production and optimized distribution so that it does not depend on availability of products at a particular production asset. He also optimized relations with financial institutions by facilitating their decision-making process with regards to loans by providing the necessary consolidated financial statements which comply with international standards. It enabled the vertically-integrated OSTCHEM holding, created in 2011-2012, to invest almost UAH2bn in production modernization, which allowed OSTCHEM's producers to reduce operating cost and increase sales", reads a dedicated article in 'Investgazeta' (#7, 2013).
"I'm really pleased to receive this award from 'Investgazeta'. This award is testament to not only my achievement, but of our whole team, of each employee, of all financial departments of OSTCHEM and its producers, as well as Group DF. All of them have contributed to OSTCHEM's success. I'm convinced that as a team we can implement many successful projects in 2013", added Oleg Kikta.