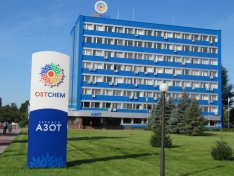 In 2013, Cherkassy Azot (PJSC Azot), a part of OSTCHEM holding, completed modernisation of its main fertilizer producing shops. Thanks to implementation of large-scale projects aimed at introducing advanced chemical industry technologies, as well as repairs and renewals of equipment, the company managed to achieve full capacity production loads and reduce operational risks.
Overall in 2013, OSTCHEM invested UAH 165 million in development of Cherkassy Azot. The company spent UAH 158 million on scheduled overhauls, modernisation of production and investment projects, as well as additional UAH 7 million on improvements of working conditions.
The largest 2013 projects included modernisation and overhaul of the following shops: A-3 ammonia shop (UAH 18 million invested), M-9 ammonia nitrate shop (UAH 17 million), M-5 liquid ammonia shop (UAH 16 million), and M-2 urea shop (UAH 10 million).
Implementation of energy efficiency projects will enable the company to significantly reduce its energy expenses. In particular, natural gas consumption for production of one ton of ammonia was reduced from 1,077 to 1,029 m3, and for one ton of liquid ammonia reduced from 95.9 to 87.5 m3. Also following overhauls, the required energy for production of one ton of ammonia nitrate decreased from 30.71 kW in 2012 to 29.91 kW in 2013.
"Cherkassy Azot is a modern industrial company and one of the leaders in the chemicals industry. We have been actively implementing innovation projects aimed at reducing production costs and various consumption indices, as well as at improving energy efficiency of operations. This helps us to improve productivity and the quality of our products," stated Oleksandr Khalin, General Director of OSTCHEM.
Overall in 2011-2013, OSTCHEM holding invested UAH 791 million in development of Cherkassy