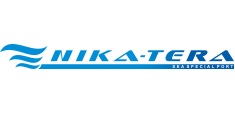 The volume of cargo handled at Nika-Tera terminal (SSP Nika-Tera Ltd.) amounted to 2 378K tons, which is up 49,2% year to year. In the total cargo turnover 41,2% (980K tons fell on grain handling; 32,4% (770,5K tons) – on mineral fertilizers; 25,7% (611,3K tons) – on open storage bulk-loaded cargo; 0,2% (6,4K tons) – on general cargo; and 0,4% (9,8K tons) on liquid cargo.
The enterprise sees a significant growth in export cargo handling with decline in import cargo handling. Handling of export cargo in the first half year increased by 105,3% to 1 884,7K tons, while that of import cargo dropped 26,5% to 98,6K tons. Likewise, handling of transit cargo dropped 27,2% to 392,4K tons with the volume of coastal cargo handling growing 15,3% to 2,3K tons.
"We intend to enhance handling volumes. It is supported by implementation of several large investment projects which enable enhancement of the enterprise's capacities and improve the quality of client service", commented Alexandr Gaidu, Company Director.
According to him, the majority of currently implemented investment projects will primarily increase handling of cargoes crucial for the terminal – grains and mineral fertilizers. Specifically, the plans for the near future include completion of the railway-yard construction project to serve the grain terminal, and commence the construction of the second laboratory and sampling complex, as well as the crowding pen for 200 vehicles.
The plan also calls for installation on the second berth of Cargo district No.1 (specialized in grain handling and storage) of berth-and-dispatch culvert, and new loading machine "Noero" with the capacity of 1500K tons/hour. Storage facilities of Cargo district No.2 (specialized in mineral fertilizer handling and storage) will have their technological equipment repaired with subsequent installation of industrial air dryers.
Nika-Tera is part of OSTCHEM holding, consolidating Group DF's mineral fertilizer producers. The port handles part of fertilizers produced by OSTCHEM plants.
Since acquisition by the new owner (end of year 2011) more than 89 million USD has been invested in the enterprise. The largest projects in 2013 included construction of the modern grain bin storage facility and urea handling section. Investments helped to significantly enhance the enterprise's capacitates, i.e. grain storage capacity was increased from 40 to 210K tons; that of mineral fertilizer storage – from 125 to 175K tons.
In 2013 Nika-Tera handled 3,7 million tons of cargo.