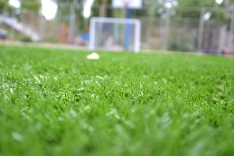 Nika Tera Specialized Seaport (SSP Nika-Tera LLC), part of OSTCHEM holding (Group DF) will present a new futsal ground and equip a special classroom for Mykolayiv specialized boarding school No.2. It was announced by Oleksandr Gaidu, Chairman of Nika Tera.
"As of today, we have built the futsal ground, i.e. artificial turf field of 24х12 meters. Now we are improving the adjacent territory. Inauguration of the ground is planned for August", he said. "We know that this boarding school raises many talented children. Some of them have already earned fame for Mykolayiv region far beyond Ukraine", added Mr Gaidu.
According to him, Nika Tera intends to spend more than UAH 200 thousand on this project. The port renders assistance to the boarding school as part of a social partnership agreement.
Besides the new ground, Nika-Tera will equip a social education class in the boarding school. The company has already helped to make renovation and purchase the required furniture. The school intends to open the class by the beginning of the new academic year.
"A well-equipped social and household education class is essential for child-rearing. It is not just a classroom. It's a special room where children are be able to learn the basics of responsible life. For example, receive guests, cook, clean and wash. All of this will serve them well in life", said Anatoly Kovtun, Director of boarding school No.2.
Earlier, Nika Tera signed a social partnership agreement with Mykolayiv shipbuilding college. As part of the agreement the company has already repaired the academic building's roofing and plans to purchase plastic steel windows for the college.
Earlier in 2013, Boris Krasnyansky, Group DF Chief Executive Officer, stated that the priority lines of corporate social responsibility of the Group and its enterprises would cover education, ecology, development of regions and promotion of Ukraine's image internationally (cultural diplomacy).
In 2012, Group DF invested UAH 624 million in various social responsibility programs in 16 cities, while OSTCHEM holding which incorporates Nika Tera spent UAH 315 million. The Seaport became active in supporting Mykolayiv city and region since its consolidation into Group DF. During 2012-2013, Nika Tera Seaport signed social partnership agreements with Mykolayiv regional administration and city council.