10 December 2013
Igor Kirilyuk appointed Head of Corporate Communications of Group DF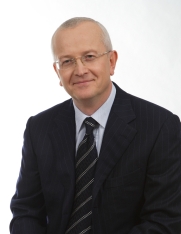 Igor Kirilyuk, a PR and communications specialist with multiple years of experience at Ukrainian and multinational companies, has been appointed Head of Corporate Communications of Group DF.
Before joining Group DF, Igor Kirilyuk headed for more than five years the Corporate Communications function at Metinvest Group. He also worked as Corporate Communications Director at Willard PR agency in Russia, providing communications strategy development services to a number of leading B2B, B2C and FMСG companies. Igor Kirilyuk worked over seven years at The Coca-Cola Company (Ukraine), gradually progressing from the position of External Affairs Manager to Public Affairs and Communications Director of Coca-Cola Ukraine.
"We have been actively implementing a strategic transformation programme aimed at making the Group and its Businesses understandable and attractive, particularly for international capital markets," commented CEO of Group DF Boris Krasnyansky on this appointment. "I am convinced that the vast experience of Igor Kirilyuk working in the largest Ukrainian and international companies in reputation management and developing an effecting communications model will benefit Group DF at this important stage of the Group's development".
"I am delighted to join this team of professionals pursuing ambitious goals," commented Igor Kirilyuk on his appointment. "I see my role in strengthening the PR function of Group DF and furthering the development of an effective reputation management system for the Group"
Igor Kirilyuk graduated from the Minsk State Pedagogical Institute of Foreign Languages (Belarus) and obtained the Master's degree in Management at the New York University (USA). He is also a member of European Association of Communication Directors (EACD) and International PR Association (IPRA).