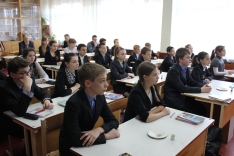 Representatives of Group DF's fertilizer and titanium businesses held open chemistry workshops for pupils of 15 Ukrainian schools in Kyiv, Zaporizhia, Rivne, Severodonetsk, Gorlivka, Cherkasy, Irshansk, and Vilnogirsk.
These chemistry workshops are a part of a national programme for promotion of chemistry education in schools initiated by Group DF with the support of the Ministry for Education and Science of Ukraine. This year, the open workshops were dedicated to the Earth Day celebrated worldwide on 22 April.
In course of these workshops, supported by municipal educational administrations, Ukrainian pupils not only learned interesting facts about chemistry, but were also introduced to the global challenges of the mankind, such as climate change, shortage of energy sources, food and water deficiency in poor countries.
Group DF representatives explained the role of chemistry in agriculture, industry and medicine, as well as highlighting fundamental discoveries in chemistry. For instance, Sergiy Pavliuchuk, Chairman of the Board of Concern Stirol (a part of OSTCHEM holding) explained how mineral fertilizers were invented, and how the so-called g
Green Revolution facilitated agricultural productivity increase in the world.
"These open workshops are intended for pupils who have just started studying the subject of chemistry. It is a very interesting science, but unfortunately, the current teaching methodology is not perfect. So we are looking to promote chemistry among pupils through such lessons. Furthermore, we are promoting also promoting environmental awareness," explained Oleksandr Khalin, General Director of OSTCHEM.
Over 500 students of 7-9 forms were able to look at the usual school subject from a different angle by attending the open chemistry workshops.
"Such creative approaches to teaching chemistry are already yielding results. Thanks to such workshops, kids not only develop love for nature, but also interest for the subject of chemistry. Pupils are really captivated by these workshops. This is a good opportunity to learn something new about chemistry not from boring textbooks, but from people who work in the chemical industry," noted Stanislav Dovgyi, President of the Minor Academy of Sciences, which supported the initiative.
As part of the programme promoting chemistry education in schools, Group DF's fertilizer business consistently supports Ukraine's school team representing the country at international chemistry competitions. In particular, with the support of Group DF, the Ukrainian national team participated in the 45th International Chemistry Olympiad where it ranked top-five the world. Group DF's fertilizer business systematically provides financial assistance to pupils winning Ukrainian national chemistry Olympiads, as well as establishing an annual personal scholarship for teachers who prepared the winners.
In 2013, Group DF's companies invested over UAH 7 million into various educational programs. Such support for education and environmental projects is one of priority CSR areas for Group DF.
NOTE
In 2013, Group DF invested UAH 345 million in various environmental initiatives. This included a number of energy conservation projects, as well as programmes aimed at reducing atmospheric emissions and rational use of water and land resources.
The Earth Day term is widely used in relation to various events held over the spring months and aimed at inciting people to be more attentive to the fragile and vulnerable nature at the Earth planet. In 2009, the UN General Assembly proclaimed the International Mother-Earth Day celebrated on 22 April.