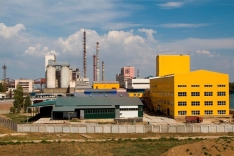 Crimean Soda Plant, a part of Group DF, increased its soda ash sales in Ukraine in Q1 2014 compared to Q1 2013 by 4.6% – from 59,874 to 62,645 tons. The company also managed to outperform its baking soda sales target by 18%.
Crimean Soda Plant produces Grade A dense soda ash, and Grade B light soda ash. In Q1 2014, the sales of Grade A soda ash rose by 5.6% from 50,832 to 53,687 tons, while the sales of Grade B soda ash went down 0.9% from 9,042 tо 8,958 tons.
"There are three major reasons explaining the increased soda ash sales. First, the growing demand from glass container manufacturers, as soda ash is used as the raw material for glass production. Second, the current economic situation which led to an increased demand, as our customers opted to accumulate higher feedstock reserves. Third, the devaluation of Ukrainian currency and the deficit of foreign currencies on the market led to a drastic decrease in soda ash imports", explained Dmytro Nechytailo, Head of Non-Core Business Department of Group DF.
Also in Q1 2014, Crimean Soda Plant sold 3,809 tons of baking soda. "It is 18% above the sales target", said Vladyslav Shmelkov, Chairman of the Board of Crimean Soda Plant. "We have now reassessed our production plans based on the growing demand for our products and the resulting higher sales", added Mr Shmelkov.
Crimean Soda Plant launched baking soda production in August 2013, with Group DF investing over UAH 60 million in this project.
According to the Group DF estimates, Ukraine consumes around 25,000 tons of baking soda per year, with the capacity of the domestic market estimated at UAH 80 million per year. The global baking soda production capacities are estimated at 1.5 million tons per year.