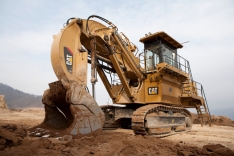 Crimea TITAN, the Ukrainian manufacturer of titanium dioxide and part of Group DF, signed a contact with ZEPPELIN GmbH for supply of Caterpillar quarry equipment worth $14,286 million. The equipment is bought for capital renewals at Volnogorsk Mining and Metallurgical Complex, a titanium mining and enrichment company and branch of Crimea TITAN, JSC.
Modernization and renewal of mining equipment at Volnogorsk MMC is part of Group DF's titanium program aimed at consolidating and developing Ukrainian titanium assets and ultimately strengthening the Group's and Ukraine's positions on the global markets.
"Group DF is committed to ensuring the most efficient operation of this titanium asset which we lease from the state. Therefore, as part of the modernization program at Volnogorsk MMC, we are purchasing the most advanced equipment manufactured by Caterpillar, an American producer recognized as the global leader in this sector," explained Oleksandr Votintsev, the head of Group DF's titanium business. "Today, Volnogorsk MMC still uses mining machinery manufactured in the 1970-80s. New tippers and excavators will allow us to improve the efficiency of ore mining, as well as reducing the costs of maintenance of the worn-out equipment and subsequent production downtimes."
"As is the case with other state-owned titanium assets, Volnogorsk MMC needs to have an efficient owner. Group DF has a programme for development of Ukraine's titanium assets, and we are ready to invest $2.5 billion to implement it," said Votintsev.
The mining equipment is to be supplied by ZEPPELIN GmbH, a German concern and Caterpillar's largest dealer in Europe. ZEPPELIN will deliver twelve open-pit dump trucks Cat 773E, two bulldozers Cat D8R, and two hydraulic mining excavators Cat 6018 to Crimea TITAN in the first stage of supply. Ten more open-pit dump trucks Cat 773E, five bulldozers Cat D7R, two excavators Cat M318D, and one wheel loader Cat 972H HL are going to be supplied in the second stage. The contract was signed with an 18 months payment deferment.
NOTE
Volnogorsk Mining and Metallurgical Complex, a branch of Crimea TITAN, JSC located 80 kilometres from Dnepropetrovsk, develops titanium ore deposits. The Complex includes two major productions: mining and processing, and metallurgy. Volnogorsk MMC produces annually up to 200,000 tons of ilmenite (TiO, min 64%), 65,000 tons of rutile (TiO, min 95%), 35,000 tonnes of zircon (ZrO,+HfO, min 65%) and other products. Ilmenite and rutile are used for production of titanium dioxide and titanium metals.
ZEPPELIN GmbH is a major German concern which supplies construction, quarry, mining, and agricultural machinery, as well as engines and generator sets. It employs some 7,000 people in 26 countries around the world. Industrial plants are located in Brazil and India. ZEPPELIN's annual turnover is EUR 2.4 billion. It is also a major dealer of Caterpillar, a globally renowned equipment manufacturer.