31 May 2013
Crimea TITAN financed capital reconstruction of youth creativity centre and sports school in Armiansk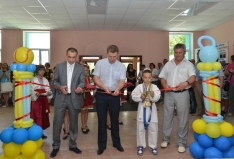 The Children and Youth Creativity Centre, as well as the Children and Youth Sports School in Armiansk have been reopened following their capital reconstruction. Crimea TITAN, the city-forming industrial company of Armainsk, provided financing for reconstruction works at both institutions serving all residents of the city. This project is part of the "Preserve Your City" programme initiated by Dmitry Firtash, the founder and owner of Group DF.
The overall budget of the capital reconstruction works amounted to UAH 12.5 million. As part of this project, the Children and Youth Creativity Centre received improved insulation of its outer walls, new windows and furniture. The Children and Youth Sports School saw reconstruction of its dining room, repairs of adjacent roads and sidewalks, as well as a renovated building façade. It is also expected that the Sports School will see reconstruction of its pool and gym completed by the end of autumn 2013. Crimea TITAN plans to spend a further UAH 3.5 million on these works.
Almost all of Group DF's industrial companies are either city-forming, or major contributors to respective municipal budgets. Such municipalities include Cherkassy and Rivne, Gorlivka (Donetsk region), Severodonetsk (Lugansk region), Irshansk (Zhytomyr region), Vilnohirsk (Dnipropetrovsk region), Armiansk and Krasnoperekopsk (both in Crimea). Upon Dmitry Firtash's initiative, Group DF companies provide active support to developing and improving various social infrastructures of these cities.