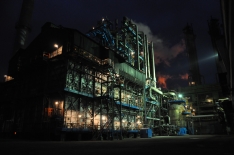 Concern Stirol, part of OSTCHEM holding consolidating nitrogen chemicals producers of Group DF, completed scheduled overhaul of 1-B unit of the Consolidated Ammonia Plant. It was announced by Sergey Pavliuchuk, Chairman of the Board of Concern Stirol PJSC.
"We have invested over UAH 100 million in modernization of the workshop and successfully completed this project. As the result, we managed to significantly reduce consumption of natural gas. Earlier, the production of 1 ton of ammonia required 1129 cubic m of gas, whereas the overhaul helped to reduce it to 1100 cubic m", noted S. Pavliuchuk.
According to Oleg Kikta, CFO of OSTCHEM, annual gas savings will depend on the quantities of ammonia produced by the shop, and will be between 10 and 20 million cubic m of gas. "The economic effect of this investment will be 35 to 70 UAH million per year. Thus, the funds spend on the overhaul will pay off rather quickly. According to our estimates it will take a couple of years. But it is not just the question of savings, it is the question of competitiveness of our products on the global markets", stressed Kikta.
The overhaul of the 1-B unit of the Consolidated Ammonia Plant included modernization of the primary reformer, and replacement of the reformer tubes with pipelines of larger diameter.
The modernization not only made it possible to reduce Concern Stirol's natural gas consumption, but also stabilized its operations in general, as ammonia is used as the raw material in other production departments of the company, such as nitric acid, ammonia nitrate and urea.
Since its consolidation into OSTCHEM holding in 2011, Concern Stirol saw a number of significant investments. Over 2011-2012, investments into the company totaled UAH 700 million.
Concern Stirol's production facilities include two ammonia production plants, namely the Consolidated Ammonia Plant and the No.1 Plant. In 2012, Concern Stirol produced 1 million tons of ammonia, of which 841,459 tons were produced by the Consolidated Ammonia Plant.