In 2014, OSTCHEM invested almost UAH 150 million in the development of Cherkasy Azot. It allowed the plant to increase production volume as well as save energy resources significantly. The enterprise sold products for UAH 6 billion (UAH 1.1 billion more than in 2013). The plant purposefully worked to provide Ukrainian agricultural producers with fertilizers: 71% of products were sold for Ukrainian agribusiness, 28.9% – for export. The volume of products increased by 2.8% as compared to last year.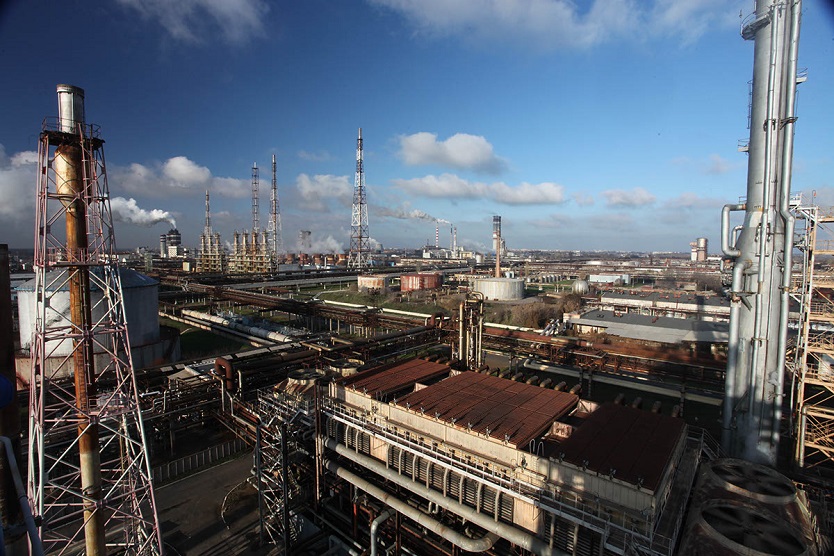 Cherkasy Azot, a part of OSTCHEM holding (consolidates Group DF's fertilizer business) held the record in ammonia and UAN production in 2014. Thus, the plant produced 129,100 tons of commercial ammonia (37,900 tons in 2013) and 249,500 tons of urea ammonium nitrate (230,700 tons in 2013).
Besides, M-9 shop exceeded target figures and produced 920,600 tons of ammonium nitrate.
"Last year we experienced the advantages of holding. Due to events in Eastern Ukraine OSTCHEM ceased running two of four plants to improve the safety level. That's why we increased production at operating Cherkasy Azot and Rivneazot. It allowed us to fulfil all obligations to agrarians. For example, Cherkasy Azot increased production of ammonia and UAN significantly as well as maintained production of ammonium nitrogen and urea. If analyzing performance since 2006, you can see that the plant in Cherkasy even held a record in commercial ammonia production last year. The enterprise remains being oriented to the domestic customer. 71,1% of the production volume is sold on the domestic market and just 28,9% – on the foreign market," comments Oleksandr Khalin, General Director of OSTCHEM.
OSTCHEM holding invested almost UAH 150 million in the development of Cherkasy Azot in 2014. The plant implemented overhaul programmes and modernization projects at the main shops. It allowed Cherkasy Azot to resume equipment's resource as well as provide lowering of operational risks, stability of production and at the same time decrease energy consumption.   
"We try to achieve lowering of end products cost and consumption indexes. Results of natural gas consumption for ammonia, urea ammonium nitrate, ammonium nitrate and urea production were indicative in 2014. Thus, the plant needs on the average 1066 m3 of gas for producing 1 ton of ammonia (at A-3 and A-5 shops), 514 m3 of gas for 1 ton of ammonium nitrogen (at A-9 shop), 442 m3 of gas for 1 ton of UAN (at M-7 shop), 740 м3 of gas for 1 ton of urea (at M-2 and M-6 shops). We modernize production capacity to enhance competitiveness of our enterprises," emphasized Vitaliy Sklyarov, Chairman of the Board of Azot PJSC.
Cherkasy Azot achieved considerable decrease of natural gas consumption indexes at two ammonia production shops. In particular, the plant repaired waist heat boiler in the synthesis unit at A-3 shop with replacement of two upper row hinges (each of which costs UAH 4.5 million). Besides, the enterprise upgraded a compressor in department of synthesis gas preparation through installation of up-to-date new generation gas-dynamic concentrators. Completed works allowed the shop to save 11.4 million m3 of natural gas and 1.04 million kWh of electricity in 2014. Cherkasy Azot invested UAH 31 million in upgrading and overhaul of A-3 shop. A-5 shop reloaded the catalyst in methanation and hydrogenation reactors which allowed restoring design load. The enterprise invested UAH 12 million in the overhaul of A-5 shop.