Two years ago, OSTCHEM, the country's largest nitrogen holding company, decided to work directly with the farmers. That is how OSTCHEM RETAiL came into being. The thing about the new player is that it is not just a trader. It was the first on the fertilizer market to engage large banks to trade fertilizers on credit. The rise of a new player has completely changed the architecture of the fertilizer market. Yevhen Khurylenko, CEO, OSTCHEM RETAiL, spoke exclusively to Agronews.ua about current trends and development plans.
Direct link from the producer to the farmer, delivery of fertilizers directly to the farm, launch of joint partner lending programs with banks, partnership with Syngenta Ukraine - these are just some of the projects that have become a catalyst for change in the fertilizer market.
Recently, OSTCHEM RETAiL announced the launch of diesel fuel sales to farmers, which came as a complete surprise to the oil market old-timers. Below is the straightforward read about changes in the habits of Ukrainian farmers and the changes they should be getting ready for in 2021 - 2022 agricultural season.
You have been in the market for more than a year. Did you succeed? Tell us briefly about year's performance. Did you manage to deliver on your plans? What has already been done?
In the first year after its establishment, OSTCHEM RETAiL have been working in pilot regions, and all our projects were launched as pilots. In 2020, we have set ourselves the task of scaling up to serve our customers where they are. As you might understand, our interests spread all over Ukraine. I can say that we have delivered 100% on this plan; now we are working in all regions of Ukraine.
Tell us about the problems that OSTCHEM RETAiL faced during this period?
Since our sales in 2020 were twice as much as we projected, I believe that any problems are insignificant.
You did not call the figures… In September, you claimed the sales of 1 billion hryvnias. What is this figure now?
Currently, sales are in excess of UAH 2 billion. For 3 months of this season we sold fertilizers worth 0.8 billion hryvnias.
In your opinion, is it a lot or a little?
Compared to 2019, we have grown more than 3 times. In addition, the market itself is growing this year. First of all, we observe growth in liquid fertilizers. In the future, of course, everything will strongly depend on the structure of the land under crops.
How do you build your relations with the farmers?
We strive not only to consolidate our current offer, but also to bring about something new every year. Last year, we consolidated sales through the banking channels of our partners.
We have also collaborated with Syngenta, the market leader in PPPs, to offer the farmers a wider range of products.
Aside from that, we touched base about the new line of effort, i.e. grain exchange. According to it, we buy the client's crop and sell him fertilizer of an equal amount. I believe the product passed the tests quite successfully, which means that next season we will actively market it. The next stage is to start diesel sales. We have launched this project and are scaling it up.
How has the structure of the fertilizer market changed due to your appearance on the market?
The 2020 market was in principle little similar to the 2019 market. The torrid spring has endangered the harvest of early grains. Precipitation in May somewhat improved the situation. As a result, the harvest of early grains turned out quite good. Then the summer drought hit the corn…
At the same time, the market situation was generally favorable due to high harvest prices and very reasonable prices for nitrogen fertilizers and diesel fuel.
It allowed many farmers to earn no less, and some of them earned even more, than a year earlier. With the exception of Odessa, Mykolayiv regions and in general clients with a large share of corn in crops which strongly suffered from a drought.
The second deviation was the shift of the periods of the agrarian cycle. Due to the good market price, our customers sold the lion's share of their harvests earlier than usual. They used the money earned to buy plant protection products, fertilizers and fuel, i.e. everything related to the agricultural cycle. Consequently, the active business season shifted by two months - if last year the season lasted from January through March, this year it lasted from November through January.
Based on the last season's performance, what conclusions should farmers draw? How can farmers increase their efficiency?
One of the most common recommendations for farmers is to look at the entire agricultural cycle more comprehensively and calculate their future needs in advance.
We advise the farmers. Both us and them are the producers. We have similar thinking and the same problems. We address our problems, and based on the lessons learned we suggest the farmers how to address their problems.
Our main task is to show the farmer the benefits of careful planning of fertilizer purchases.
We want to show them that if farmers build a new economic model for themselves, change the business process, the profit margin of their businesses will grow.
Could you explain it?
Historically, farmers identify the need for fertilizers in January. They expect that fertilizers will be delivered immediately in January. This year has shown that it is too late to buy fertilizers in January, when the gas price is high. Fertilizer prices reach their maximum in winter. January-February is the time when farmers are ready to overpay for fertilizers to be delivered on short notice. However, it is not an easy task to find fertilizers at this time of the year immediately.
The main conclusion of this season is that those farmers who acted in a planned manner and not as the moment arises, were able to save about 40% only on fertilizers. We encourage farmers to plan purchases and not to work on the spot and overpay. It is important to look at the agricultural cycle in its entirety.
This applies not only to the purchases of fertilizers. It is important to take care of the free financial limits in the bank in advance in order to react as quickly as possible to changes in the market situation and be able to take quick decisions.
Figuratively speaking, you suggest not driving during rush hours and swearing at traffic jams. What do you suggest? "Leaving in advance"?
It is a very accurate allegory. You get it right. If you take Uber or Uklon at rush hour, aside from wasting time, you overpay.
For how long do you currently contract fertilizers?
At present, we can offer fertilizers to clients with shipment for April-May. At the earliest. Be sure, all 100% contracts will be delivered Last year, farmers had a chance to see it for themselves. They will have a chance to see it again this year. All farmers who have contracts with us will receive products on time.
There are rumors in the market that Ostchem is facing some problems. They say that holding was sued.
The dogs bark, but the caravans move on. The same rumors were last year, but no one paid attention to them. All 100% of deliveries will be made on time and in full compliance with the contracts entered.
Those who have already tried to work with us stay with us. Instead, they bring in new customers. People trust us with their hryvnias. We have the best trump cards in this market, i.e. the price, quality, timely execution of contracts and comprehensive services. Market participants are free to keep on spreading the rumors and lose it. As it happened in 2020.
Farmers have traditionally been very careful about loans. Is it true?
Loans are in demand and this trend is intensifying. According to our data, the lending market to buy fertilizers is growing by more than 50% annually.
Farmers are beginning to understand that a successful campaign to purchase inputs solves a lot, and the economic effect of such decisions exceeds the interest on loan not for one year but for 2-3 years. More and more farmers are negotiating credit limits with banks.
If you agree on a credit limit with the bank, it does not mean that you should immediately take it.
Right. It is absolutely true. You do not need to pay for the loan, until you use it. It just means that you are free to act. It is important to start negotiating with banks in advance. You have to do it in May-June, and not in August when you need to start using these limits. During active season, every minute counts, and farmers simply do not have time to deal with paperwork. There are few opportunities in the market to get a loan fast and at an adequate price, you have to understand this. It is easy to plan any trip when you have a passport. While it is very difficult to adjust it to the date when you will be issued a passport.
In your opinion, how many farmers understand this?
In fact, banks are already financing a large number of farmers, while the terms differ. Typically, the larger the customer, the more planning it takes to make a business decision. Such farmers are easy-to-understand to the banks who offer better lending conditions.
What is your role in this entire process? The banks work directly with farmers, don't they?
We collaborate with 10 banks under partner programs. These banks provide about 70% of capital financed by all banks operating in the agricultural sector. Based on our partner programs, we can offer the farmers a number of our partner banks to choose from, we assist farmers with paperwork and provide advice. This is in addition to the actual sales of fertilizers and other products for the agricultural sector.
The issue of financing has always been a matter of interest for farmers. It might be the case that it is necessary not only to change the attitude of the farmers, but also the philosophy of bankers in relation to the agricultural sector.
Last year, using our programs, we proved that banking "low-season" could easily be turned into a "high season". This in itself speaks quite convincingly that banks need to restructure their business processes. If there is a good offer, there will always be a demand for financial resources. A clear example of how we worked last summer was the number of customers who took advantage of banking programs, the price at which our customers were able to buy fertilizers and the number of farmers who won big on that. Having bought fertilizers in the summer for the upcoming spring sowing season, the farmers earned at least an additional 15% on each hectare. At minimum.
Do you plan to expand the list of banks you work with?
Of course, the task is to have in our portfolio of banks all financial institutions that want and successfully work with agribusiness. According to our estimates, at present there are about 20 such organizations. They cover more than 95% of the credit market for agriculture. We are already either working or negotiating with many of them.
About prices at fertilizers and farmers' incomes
Over the past six months, all nitrogen fertilizers have risen in price by more than 40%. What is the reason behind such price volatility?
In summer, the price for gas, which is the main input to produce fertilizers, has been at its lowest level in several years, or even in the last decade. The paradox is that at the times of the minimum price the demand for fertilizers in the domestic market was much lower than at present and some fertilizers were exported. Our plants cannot afford to produce to a warehouse, especially given the unlimited imports brought into Ukraine by importers. Our task is to sell everything.
At present, gas prices have risen fivefold compared to summer. If you do the math, nitrogen fertilizers, in which the price of gas plays a key role, should have also risen in price more than twice. We tried not to pass all the rising gas prices in fertilizers to consumers so we were trying our best to reduce the cost. We understand that the farmers would not be able to afford this price. We sign contracts to supply fertilizers that state the price. We supply our fertilizers at a price stated in these contracts. At the same time, for some reason imports to Ukraine fell down sharply; it became unprofitable for importers to import certain types of fertilizers.
Correct me if I am wrong, but such a price for fertilizers is a global trend?
Right. The rise in prices is not a purely Ukrainian story. This is a global trend and, unfortunately, Ukraine cannot influence this process. The price for nitrogen fertilizers on the global markets has grown many times for the entire gas group. As a country, which is a part of the global market environment, we cannot ignore these processes.
What is your take for the next year?
In 2021, we expect the fertilizer market to grow by 8-10%. This is what we are told by the farmers themselves. A lot of rainfall gives reason to expect a good harvest. We also set our hopes on land market launch; we expect farmers to apply more fertilizers in the land that they own rather when they rent it.
Will the trend of rising fertilizer prices continue?
We do not rule it out. Gas is getting more expensive, the demand for fertilizers is very high all over the world. At the times of coronavirus crisis, the demand for food went up. Consequently, farmers are earning more revenues in terms of the basic agricultural commodities.
However, no matter what the market situation is for fertilizers, a farmer with a strategic approach and competent operational decisions can benefit during the entire agricultural production cycle.
During the consultations, farmers often speak about each position separately, i.e. the price for fertilizers, the price for diesel fuel and the price for grain. Our main goal is to show that these factors are interrelating. It does not matter at what price you buy or sell; these transactions should not be considered separately. If we combine all stages of agricultural production cycle and understand when is the best time for the farmer to buy inputs and address other business tasks, we will get a completely different picture.
You have to understand that it is not a target in itself to sell grain by $ 5 more. The farmer's goal is to benefit at the end of the year. Often times, it means to purchase inputs for the next agricultural cycle for less. Here we talk about hedging and forecasting the risks.
Selling dear is a natural desire of any business.
You will be surprised but a farmer who sold wheat at 6,000 hryvnias in August could have a more significant economic effect than the one who waited until November and sold it at 7,500 hryvnias. The thing is that in August this farmer bought 20% more fertilizers in volume for the money he earned. Because over this time the wheat has risen in price by 20% and fertilizers grew up by 40%. The result always depends on the entire business cycle.
Two farmers with similar initial data, i.e. the same yield, the same sown area, but buying fertilizers and selling grain at different times can have different financial results by a factor of two.
I do not quite understand this math. Could you explain it?
It is quite simple. Let us take a look at two practical cases. For example, a farmer takes a loan to buy fertilizers and diesel fuel in June. At the time of the purchase fertilizers cost UAH6, 000/t, diesel fuel - UAH15/liter. The farmer does not sell the harvest immediately; he waits for November and sells it at the maximum price which is by 20% higher than in August.
The second farmer sold the crop in August at a lower price to buy ammonium nitrate at an even lower price. He bought diesel fuel when there was a need, at the beginning of the sowing season. Now the diesel costs UAH22/liter. You need on average 80-90 liters of diesel per hectare, depending on the type of product.
Finally, in May, each one of them will have a different degree of resilience and totally different capabilities. While it is hard to notice this difference in income during the year, in mid-term perspective both farmer will be at completely different levels.
If the agricultural sector revenues are lower in one season due to weather conditions or other reasons, such a difference may become critical for business.
About current projects and plans for the future
How does your day begin? What issues do you have to address?
We begin the day by reviewing if we have fulfilled the plans for the previous day in terms of the shipments to customers; we analyze logistical risks on the contracts, if any. It is important for us to deliver on our agreements. We ship products to customers every day. Our task is to determine whether it is done in line with our plans. Then we move on to sales; we analyze what our customers wanted to buy, when they wanted to get the goods. This is followed by routine commercial issues, i.e. the needs of our field managers, whom we as a head office must provide. Finally, at the end of the day we analyze what was done and what was postponed, our successes and our weaknesses.
The sale of goods does not end with the receipt of money, as is the case in classic businesses. In our case, when the money is credited to our accounts, we ship our products; to be honest with you, for us it is even more important than the sales themselves.
While working with farmers, you advise them. On what issues do you advise the farmers?
The task of any manager in our area is not just to tell the farmer some important things related to fertilizers. The task is to convince the farmer to listen to the manager and to build honest partnerships. When we are together, we work in a coordinated manner to develop our clients' businesses. The farmer is a buyer for us, but we are not less interested in his success that the farmer himself. We can only benefit when the farmer succeed.
Advising the farmers is only one element of the services that we provide.
We strive to become the full-fledged partner that addresses most of the farmers' issues. Therefore, one way or another, we address most of the farmer's needs.
Is that how your partnership program for diesel came about?
Right, we've been approached by every other farmer. We developed this program in response to demand from those farmers who want to buy diesel for the entire year in the summer. They did not have such an opportunity before; they used to buy at spot prices. Now they have this opportunity.
We are planning to add other products and services to our portfolio that will allow farmers to spend a minimum of time and get the most out of it. Everyone is talking about the principles of a one-stop-shop service, but few have implemented it so far. We are the ones who are doing it.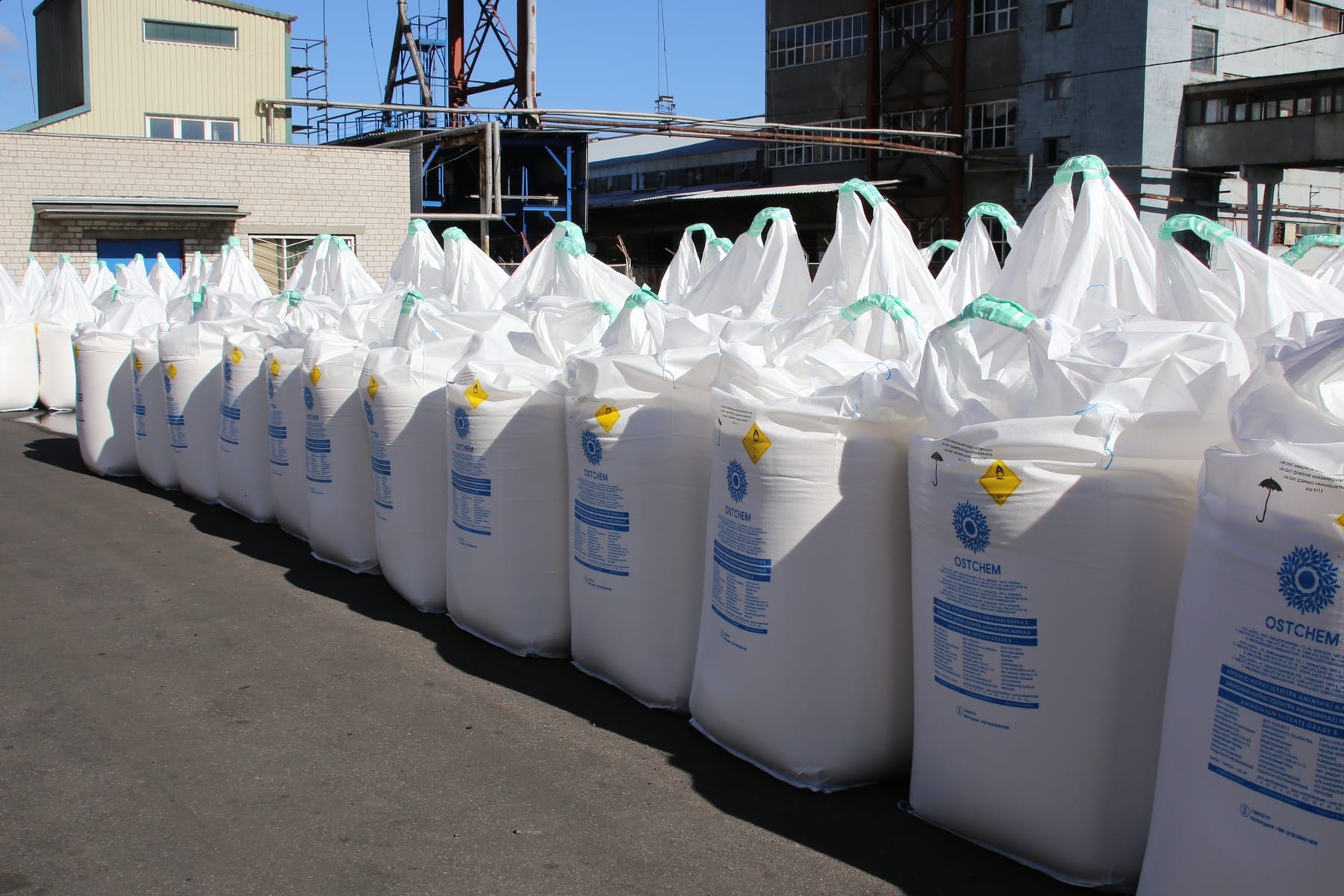 Will you help farmers to batten?
If the farmers demand our services in terms of applying fertilizers, we will develop this line of effort in response to their demand. At present, our development is focused on procurement of fertilizers and other means for agricultural production and processing. We have products to offer in both of these areas.
 What are you planning to develop for farmers in terms of logistics? Is it a secret?
We do not have any secrets. We already have all options at hand. We offer pick-up service, delivery to the railway station or delivery directly to the farm, for all regions and any products It's definite that the price is different.
Coming back to a one-stop-shop service that you mentioned… At the end of the year, OSTCHEM RETAiL and Syngenta announced a partnership. Could you share the results of this partnership with us?
It is definitely the project of the year. In cooperation with Syngenta, we offered farmers a partnership solution with a wide range of products on very favorable lending terms from key Ukrainian banks. There has never been anything like this on the Ukrainian market. Farmers are given the opportunity to cover up to 70% of the agricultural production cycle with a single agreement.
To be honest, the effect of this program exceeded all our expectations; we did not expect that the program would attract such attention from market participants, i.e. distributors, equipment manufacturers, etc. This program triggered a very high demand. During the first months alone, the volume of transactions under this program reached about UAH 40 million, and the average check was about UAH 2.5 million per customer.
Do you plan any new partnership projects for 2021?
We have been already approached by major international brands, and we are actively working on new partnership solutions for the farmers. Therefore, we can say that in 2021 we will be able to surprise farmers with new interesting proposals. I am not inclined to name the companies until the contract is signed and the project is launched. Believe me, these are very big names in the market.
How do you protect your products against counterfeiting? What in your opinion do farmers have to pay attention to when they buy fertilizers?
A simple question requires a simple answer. You only need to enter into contract with suppliers you trust.
If the farmer would like to avoid any understatements and care about quality, the best solution is, of course, to buy directly from the manufacturer with direct delivery to the farm. We as a manufacturer who is responsible for the quality and authenticity of the product take over the entire chain from the moment of production to the moment when the product enters the economy. We develop our own network, our own deliveries, and ways of logistics to the clients and give them the opportunity to buy this product directly from us. In case of the complaint, we do not abandon our client; we sit down at the negotiating table, and go into the details. Over the past year, we had no complaints, because we supply fresh fertilizers, figuratively speaking, directly from under the granulating tower. At the same time, farmers often question the quality of imported products. Due to the long chain of relationships, it is not clear whom to complain. At the same time, there are many decent importers. I do not want to say that everyone is cheating. I am talking about risks, though.
I believe you are aware of high-profile scandals last year when fake one-day traders began to appear, pretending to be Ostchem representatives and trying to collect prepayments.
Yes, we are aware of two cases like this. It is a common fraud. Fraudsters tried to illegally use the Ostchem brand, created websites as exact copies of the websites of our companies. They managed to work for three weeks. Our security service, PR department and legal department quickly stopped these cases. Do you know what I want to tell you on this occasion? They will never copy the bad thing. Plagiarism is the best compliment. They try to copy successful projects and brands.