A new generation dreams about being bloggers and marketing professionals, and rarely makes technical specialties their first choice. What do you need to do to bring talents to the chemical enterprise? How to motivate young employees? These are the common tasks addressed by the top management of PrJSC "Severodonetsk Azot Association", the largest chemical company in eastern Ukraine.
Leonid Bugayov, the Chairman of the Board, PrJSC "Severodonetsk Azot Association", told in an exclusive interview to the Ukrainian News about the pros and cons of being a chemist and how to address personnel issues.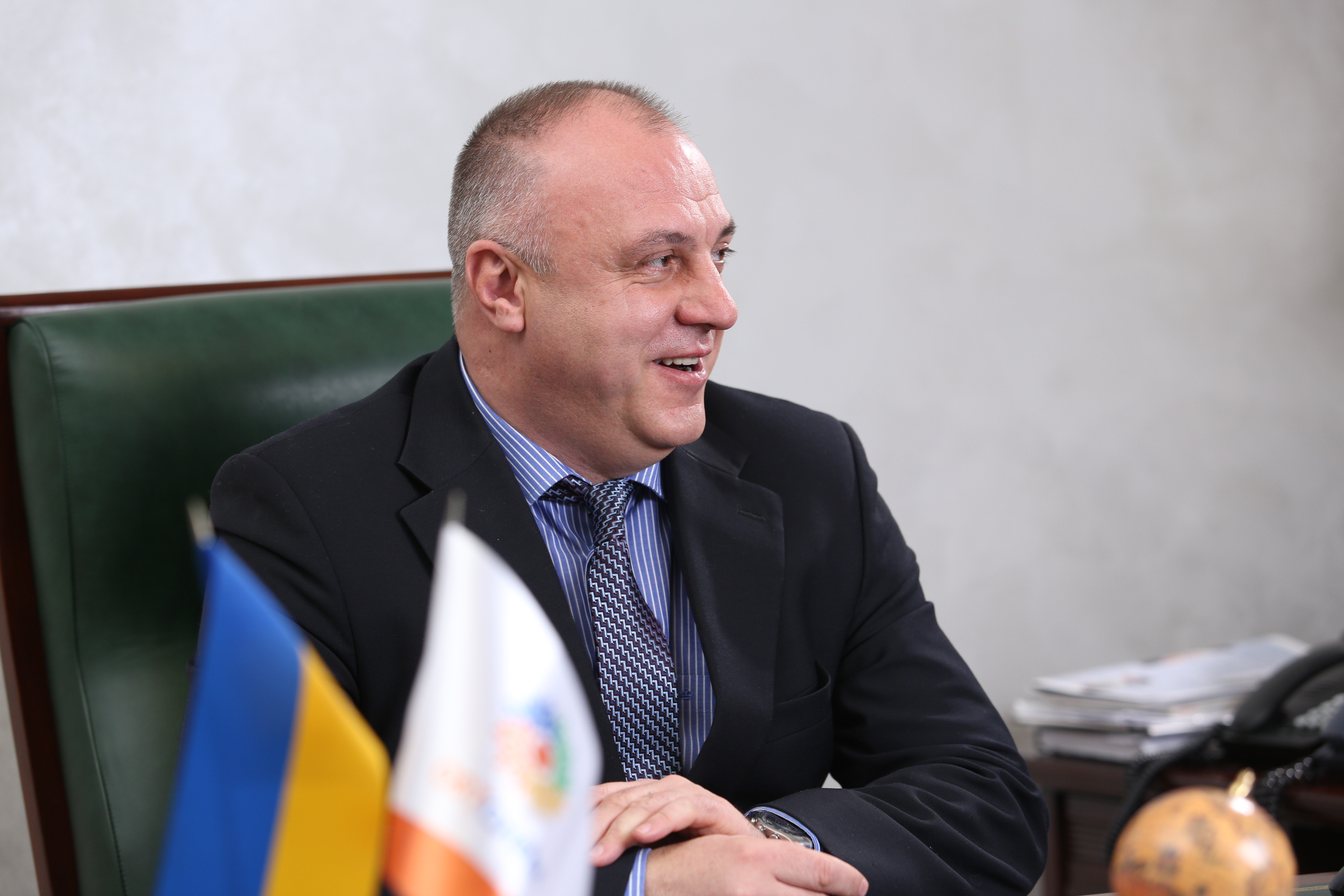 Today I want to talk to you about personnel management… What, in your opinion, unites the staff of PrJSC "Severodonetsk Azot Association"?
We stand united by working together. The work that has no little things, where everything is equally important. We employ responsible, disciplined and trained people; everyone has a desire to develop and grow professionally. It is this type of employees that creates the core of our team.
The feature of chemical production is that you can't pull it all alone, it's teamwork. Therefore, everyone who comes to work at PrJSC "Severodonetsk Azot Association" becomes part of a great team.
How do you recruit personnel? Tell us about the initiatives that the company launches to attract people?
The hunt for personnel starts at the university because we strive to invite the best and the most talented. Given the fact that the technical specialties are not popular, every good specialist is worth his/her weight in gold.
Most of the young specialists with higher education working at our company are graduates of Volodymyr Dahl East Ukrainian National University. This university has introduced a so-called dual form of education for students of technical professions, which allows combining theoretical knowledge with full practical experience. That is, students can study and at the same time work at our company, in production plants. We can employ up to 20 students at a time.
We have also concluded agreements with Severodonetsk Vocational Lyceum and Higher Vocational School for vocational training. These academic institutions train future mechanics, instrumentation fitters, repairmen and electric gas welders. Following graduation, these young people also come to work for us.
At the same time, PrJSC "Severodonetsk Azot Association" takes part in various career fairs.
The museum of PrJSC "Severodonetsk Azot Association" together with the Employment Center has been conducting special occupational guidance for schools, vocational schools and universities for many years.
Does all this have an effect?
Indeed. For some positions, we have 2-3 candidates.
When a young specialist comes to your company, do they need further training? How does this system work? How fast can the candidate reach the level of a good specialist? Manager?
All young professionals coming to the company undergo mandatory additional training on an ongoing basis. They study technological processes and equipment, occupational safety and health rules, safe working methods used in the chemical industry, and advanced solutions of the global chemical industry. We have also introduced a mentoring system: newcomers are assigned experienced mentors who help them gain the necessary skills and experience that they use for further independent work. Each employee follows an individual track, but in any case, it takes years, i.e. at least 5-10 years until the employee is ready to work in a managerial position.
What are the major factors influencing the inflow and outflow of specialists at PrJSC "Severodonetsk Azot Association"?
PrJSC "Severodonetsk Azot Association" is located in Luhansk region, and for the last 7 years, we had a chance to assess how important the safety of the region's residents is for the stable operations of the enterprise. Unfortunately, in 2014-2015, when the combat operations were going on in Severodonetsk and the region, many specialists both young and experienced left the city. We had a long period of forced downtime.
What did you do under these circumstances?
It was a very difficult period for us. Nevertheless, we managed to keep the company operational and, most importantly, we succeeded in keeping the core of the team. We used every opportunity to try and come operational. Even if separate production plants, even if part of the raw materials were imported; it was important for us to show that we can, we want and we will work. This was important not only from an economic point of view but also from a psychological point of view. This was important not only for our employees. PrJSC "Severodonetsk Azot Association" is a local economic mainstay and the biggest enterprise in the region. The steady operations of the company bolstered the confidence of many people. If the enterprise is up and running it means that the city is alive.
Tell us about the current situation at PrJSC "Severodonetsk Azot Association". Did you manage to restore stability at the enterprise?
Yes, we can talk about relative stability over the last few years. In 2020-2021, the company has been operating consistently and gradually recovering its basic production facilities. We managed to restore the team, to restore the full cycle for the production of mineral fertilizers.
I would like to emphasize once again, this stability is still relative because we have the potential to produce more. I hope that as soon as gas prices fall, we will produce more. As for any company striving for development, for us, the issue of attracting good professionals is always relevant.
Are you looking only for graduates? Is there a shortage of blue-collar employees, for example, with vocational secondary education?
For PrJSC "Severodonetsk Azot Association" the issue of certified professionals is the most challenging one. We are upgrading, the shareholder is investing in new projects, the production is getting more and more sophisticated. We use a lot of advanced equipment and control systems that require appropriate maintenance. Accordingly, the requirements for staff are getting more and more demanding. At present, many production plant and functional managers want to see workers with higher industry-specific education, even in workforce positions.
Why do you think the technical specialties are not popular? Why do they lose their importance?
First, there is no clear planning at the Government level, no understanding of what specialists the country needs. Under these circumstances of uncertainty, the education sector focuses on how "fashionable" the profession is. The real needs of the business are left out in the cold.
Do you remember how all school graduates once wanted to become economists and lawyers? At that time, universities opened these schools en masse and trained specialists in these mainstream specialties. Later, the emphasis shifted radically to the services sector. Indeed, these professions are in demand and important. Though instrumentation workers, metalworkers, turners, medical workers or teachers are equally important. I am sure that if the Government does some calculations and forecasts how many qualified personnel businesses need, the number of these mainstream specialties at the level of universities or vocational schools will increase many times.
It is not enough to invest in training professionals that the industry needs. I believe that we need a separate campaign to increase the prestige of the required professions. This could boost the development of the industry and the entire economy for 10, 20 or 30 years ahead!
If they do not change the current situation with the vocational training and leave everything as it is, what will be the consequences for the country's economy?
New technical professionals simply would not appear. No one will come in the place of those who work currently at the production. There will be a generation gap, no one to transfer specific production experience from older workers to younger ones. This is very bad for any kind of production. To a great extent, this is a problem at the level of the state. If we want to save the industry, we should not allow these developments to happen.
Businesses are interested in having more professionals they require, so we are ready to join these efforts at any stage. We have our own experience and best practices in this field. They can become part of the public policy and produce a tangible effect.
What incentive programs for employees do you launch at the enterprise?
Career growth is probably the best incentive for professionals. To this end, we have a clear and transparent system, i.e. a pool of talents of different levels. Employees are additionally trained in various areas and prepared to work in managerial positions. We have diverse approaches to employee performance review. These are the intrinsics of our human resource department. I don't think that's the subject of this interview, though.
If I were a graduate and faced a choice, what would you advise me? Why should I want to get technical education and come to work for you at PrJSC "Severodonetsk Azot Association"?
First, we at PrJSC "Severodonetsk Azot Association" know how to motivate people, and it is prestigious to work at our company. Second, professional growth. We offer a chance to young employees, as they say now, to boost their professional skills, gain invaluable practical experience and grow as a specialist. We do not have any restrictions in terms of career.
In addition, at the chemical enterprise, there is an opportunity to see and try different technical areas, to better understand the specifics of various professions and their role. This brings such employees several levels higher. They start looking at the production differently.
A technical profession is all about the future. "Techies" are moving the progress forward, make life comfortable, seek new opportunities. Remember the "green revolution", when the invention of mineral fertilizers made it possible to feed many people in the world.
Year after year, the changes in the chemical industry are happening ever faster. Today's graduates with good technical knowledge and skills are the ones who will change global markets tomorrow. I am convinced that the future belongs to "techies". Not only in Ukraine, but all over the world. Therefore, if you have interest or enthusiasm about this area, then you should have no doubt.