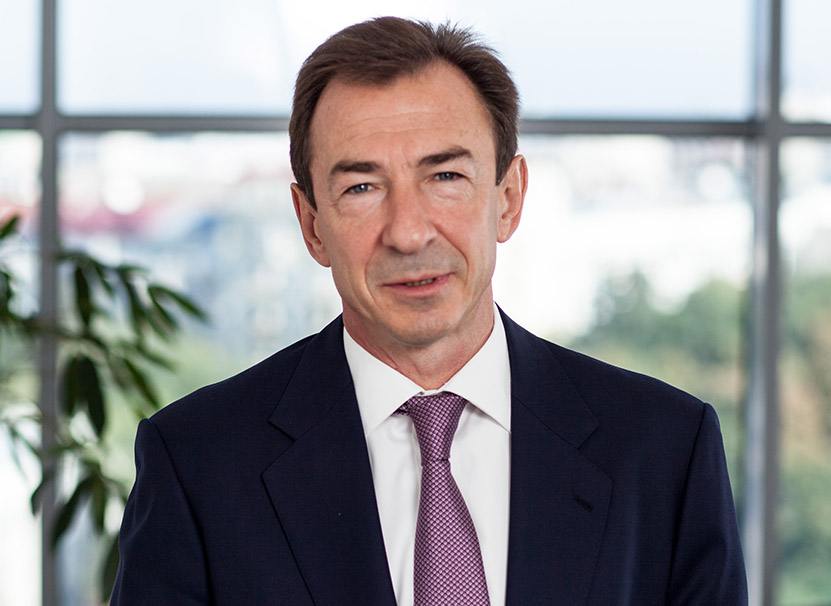 [1]
On the court case against the Cabinet and shortages in fertilizers
It has been a week now since the publication of a notorious Decision of the Cabinet of Ministers of Ukraine plainly banning your chemical plants from using their own gas. How do you solve the situation?
I was asked on this matter as early as on Wednesday when I was in Vienna. My sole answer was that the decision is absolutely illegal. It is inconsistent with the legislation of Ukraine, its Constitution, as for all intents and purposes it virtually violates private property rights. Now I can say that our companies that own the gas in those underground gas storage facilities are filing the case and shall challenge the Cabinet Decision in court. Because once again, it is utterly illegal.
It turns out that our plants are forbidden to use their gas, the gas that we've paid for. It's the same, as if the Cabinet would tell you that this winter you cannot live in your new apartment which you have just recently acquired, and if you really want to live in an apartment, you should buy a new one. With this the money you've spent for the first one are not to be reclaimed.
The volume of gas is just enough for us. We bought it partially with credit means that is to say we continue to pay out the loan. And If we are not allowed to use this gas, then it translates into additional, moreover quite significant loan service expenses.
What stage are you at with the case preparation?
At the final one.
So we might expect the case to be launched in court as early as next week?
I believe it will be this week.
How much gas stored in UGS belongs to the Group DF?
Around 4 bln cubic meters.
If you fail to win the case, what will you do?
Living in the state governed by the rule of law, we suppose the court will properly evaluate this Government decision and we will be able to use our gas. Because we even hadn't been consulted or approached before this decision was made!
The really could have told us: the country doesn't have enough gas to survive the winter season, could you consider selling your gas considering the needs of general population and think about alternative sources of getting gas for your industrial needs? We would have looked into the possible options, stared to make certain steps. But what we have now is that somebody is trying to rob us off something that belongs to us. And even with no apologies for this.
And it even hadn't crossed anybody's mind at the Cabinet that over 20K people work at the Group DF plants and that with the production holt these people will find themselves in the streets.
Besides, the gas is a fertiliser feedstock. We have covered the autumn sowing season, but what about the February – the hottest month in terms of buying fertilisers for the spring? Come the spring, and Ukrainian farmers are without national fertilisers, where shall they go to get the alternatives?
Most likely these will be the Russian producers. Though the question regarding alternative sources with Polish industries was raised as well.
Ukraine uses vast volumes of mineral fertilisers and Polish plants won't be able to meet all our farmers' needs.
So you hope to resolve this conflict with the current Government, even through the court?
I'm not 100% sure if will make it with the present Cabinet. It's just 3 weeks before the parliamentary elections.
Of course then there'll be coalition that needs to be formed, Cabinet of Ministers that needs to be appointed… But we really count on the common sense and the rule of law prevailing in this situation.
Can, for example, additional agreements with Gasprom be a way out in terms of gas problems in Ukraine? And are such agreements acceptable with the country, whom we are in a state of unannounced war with?
If Ukraine is forced to buy fertilisers from Russia, which is the case if you take the Government's decision, then perhaps we can just as well buy gas from them.
Are there any negotiations with Gasprom in this regard?
No. We are convinced that we are right on this one, and having our gas resources in Ukrainian UGS, we see no reason to launch negations of such kind.
On titanium issue, Crimea and mining and processing complexes
Is the idea of a vertically integrated titanium holding is off the table after the recent virtual take-over of the Volnogorsk MMC in Dnepropetrovsk region?
I don't agree. I believe that a vertically integrated holding is the only solution that will enable the Ukrainian industry to stay on the world titanium metal and dioxide production map. Only such a holding can stand against the massive competition, market price pressure and the so far way underestimated threat from China. On this market any player fragmentation translates into the loss of competitiveness and unavoidable crash of hopes and plants closure.
By the way, I should remind you that Titanium and chemical industries are one of those few generators of foreign currency that still operate in Ukraine in our present conditions. That's if you look at the picture state- and sector-wise. Meaning Ukraine in any case desperately needs to introduce a vertically integrated holding in the titanium sector of economy.
Well, if you look at the situation from the Group DF point of view, so here we own 'Crimea Titan' producing titanium dioxide and 49% of Zaporozhye Titanium and Magnesium Combine, producing titanium metal. Furthermore the Group has 2 MMCs of our own producing iron titanium oxide – that is Mezhdurechensk and Valki Ilmenite MMCs – and we continue to run Irshansk MCC. That means the Group's strategy to create a vertically integrated complex doesn't change.
Do you want to buy the rest stake in ZTMC?
If the rest of 51% shares are up to privatisation, we will definitely take part in the tender, though if not we will continue working with the state.
What is the Group DF position towards Volnogorsk MMC?
We have always been consistent on the matter. There is a clear procedure for lease termination for asset packages. This procedure envisages a 3-month notice. Then inventory reconciliation follows, so that it is clear what belongs to whom. 10 years Group's investments into the MMC are estimated at over UAH 1 bln, and there is a lot of heavy equipment at the plant like for example walking scoop dredges.
According to the procedure, the inventory reconciliation process should have been launched on the last day of the month of the termination, i.e. on September 30, 2014. We were ready to participate in it, but unfortunately, somebody rally badly wanted to get the complex earlier. Thus, the State Property Fund of Ukraine and the Cabinet started changing the Procedures.
As of today, we have a court decision forbidding any transfer of property rights prior to the trial. But, illegal MMC take-over still happened regardless of this clear and unambiguous court decision.
Surprisingly for this to happen only in Dnepropetrovsk region with Volnogorsk MMC, and not in Zhytomyr region with Irshansk MCC.
You ultimately avoid mentioning Dnepropetrovsk Governor Igor Kolomoysky as a person definitely gainful of such Volnogorsk MMC circumstances?
There are several versions worth considering, but I prefer speaking in facts and not speculating with theories.
If Volnogorsk MMC is up for rent or privatization, will Group DF sill be interested to participate in the tender?
Of course, we are interested in this asset. We are ready to participate in the rent or MMC privatisation tender with any competitors but on equal terms. We used to produce significant part of iron titanium oxide at Volnogorsk MMC to meet our own needs despite certain depletion of these ilmenite deposits. Moreover, there are also ore mining and processing mills, which we really need.
Moreover, we never said the termination of the lease agreement is illegal, it is not. This is a state-owned enterprise and the state had all the rights to do it, if only it were done in accordance with law and without breaching the rights of the leaseholder.
What status does the Crimea Titan hold to keep staying in your Group? How did you manage to solve those challenges you must have had with the new management of the annexed peninsula?
Crimea Titan is the Ukrainian legal entity registered in Kyiv. It owns the assets located in Crimea. By the way, from the Ukrainian point of view and I would like to remind you this, Crimea is a Ukrainian territory. Crimea Titan pays taxes in Ukraine.
One of the challenges we face in Crimea is that the Russian Federation demands us to pay taxes in Russia, as they see Crimea to be Russian. And the Russian Federation tax authorities keep invoicing us, and that leads to serious shortages.
So does it mean the Crimea Titan pays taxes twice?
Well, so far we are only talking about Russian tax authorities invoicing us. These issues are being dealt with right now. So far, our only goal is to keep business running. Though of course, this is by no means normal business conditions.
What are the chances of a direct physical takeover of your assets in Crimea?
I see it as a force majeure, and to my mind, this scenario is too dramatized.
On the currency exchange rates and the new world
Does your business is heavily influenced by plummeting exchange rates?
Of course it's a heavy hit. I cannot put my vision in digits, but even the limitations to buy foreign currency for us are of critical matter. With this currency we have to buy resources and raw materials, for instance potassium, which Ukraine doesn't have. I believe the currency purchase limitation procedures are introduced without proper thought and balance given to it. With certain our companies we had situations when they were refused to be sold currency to under certain contracts. And this constitutes quite a primitive attempt to regulate the USD exchange rate, as the only thing it leads to is the drop in export.
Vienna just recently hosted a round table on Ukraine, Russian and the modern Europe issues. Did you get anything from that event for yourself?
Europeans see themselves directly threatened to certain extent by the sanctions (against Russia – clarification from RBC). Moreover they see definite serious threats to the present world order. That is exactly why this event was on everybody's top agenda, with participants ranging from Bundestag members and federal land ministers to MPs from the UK and to head of parliamentary commission on Ukraine. There were the French, including the famous philosopher Bernard Levi and, of course, Austria was also represented on quite a high level.
One of the questions put to discussion was federalisation of Ukraine …
Yes, it was. And unlike with what was discussed in Vienna, you can only wonder at the primitiveness of discussions on this matter in Ukraine. In Ukraine federalisation stands for a swear-word and it is more likely to be used as a scare tale, and if you stand for federalization you are right away branded as separatist…
I would sum up Vienna discussions to main three conclusions.
First: there are many different federalization models with different levels of delegation of authority. It is the Constitution that sets what should be delegated. If there's something that scares you – leave it out!
Second: Federalization is based on the principle of subsidiarity well acknowledged and supported in Europe as early as 20 years ago. Simply put, this way of order translates into the principle: the lower the level of decision-making in the general state management structure – the more efficient and better for the population and the country in general.
And last but not the least: Whatever you delegate the authority, if regional, municipal and local governing levels have no financial resources of their own, the whole reform stays solely in the strata of shaking the air. And the most important of them all is: you can call the model or approach whatever you like, the most important is to decide on the model and start implementing it, because it'll take a lot of time.